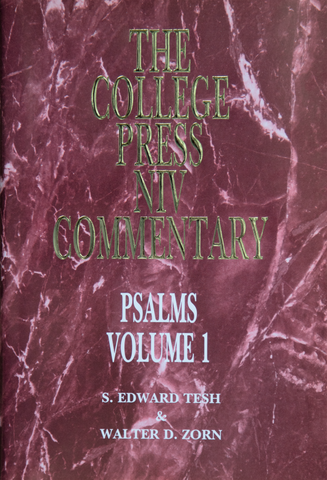 Psalms Volume 1 - NIV - (No Dust Jacket)
College Press NIV Commentary Series is formatted with a verse-by-verse explanation of the text. It was developed for both the scholar and the average Bible student. The College Press NIV Commentary Series is the only full commentary set in print from the Restoration Movement. Each volume (41 volumes for the Old & New Testament) contains the following helpful features:
Biblically sound exegesis
Clear exposition
Objective approach
Concise introduction
New International Version of the Bible
Key word translation
Easy to use design format
Practical footnotes
And more!
Psalms Volume 1:
Psalms was written in poetic form, the language of the soul. This expression of emotion ranges through all the human experience from praise and joy to lament and sorrow. By some estimations, nearly one third of the Old Testament is in some form of poetry that could be converted to song. Spanning nearly 700 years, several authors contributed to the book of Psalms, including David, Moses, Asaph and others.
Some of the Psalms covered in this volume are prophetic in nature. The cross was foreseen (Psalm 22), the upper room events were described (Psalm 41), and even the miserable end of Judas was foretold (Psalm 69). God announced that he would have a son who would inherit the nations of the earth (Psalm 2). Even the resurrection was foretold (Psalm 16). It is no wonder that after the resurrection Jesus spoke of his life as having fulfilled all that was recorded in the Law, Prophets, and the Psalms (Luke 24:44).
It has been said that everyone ought to write their own commentary on the Psalms. If you want to be a student of God's Word, this study of the Psalms will change your life forever.
Psalms Volume 1 has 483 pages.
ISBN 978-0-89900-887-9
WEB-887
Psalms Vol. 1 Preface & Introduction
Psalms Vol. 1 Outline
Psalms Vol. 1 Chapters 1 & 2
---
About the Author:
S. Edward Tesh, MDiv, received his AB from Johnson Bible College and his MDiv from Butler School of Religion. His thesis topic was "The Emergence and the Nature of the Tetragrammaton." Tesh studied for a brief time at the University of Manchester (England). He began teaching at Lincoln Bible Institute (now Lincoln Christian College) in 1949. Tesh was named Professor of Old Testament at Lincoln Christian Seminary in 1951. He retired from active teaching in 1991, completing forty-two years of faithful service to higher Christian education.
S. Edward Tesh "went home to be with the Lord" shortly after he learned that this first volume of Psalms was completed and delivered to College Press. His influence will be carried over into the second volume.
Walter D. Zorn, PhD, received his undergraduate degree from Atlanta Christian College, and majored in Semitic Languages and Literature at Lincoln Christian Seminary where he received his MDiv Zorn continued his post-graduate studies at Michigan State University, writing a dissertation entitled, "Mark and the Samaritans." Walter Zorn served as Professor of Bible and Biblical Languages at Great Lakes Christian College from 1976-1988. Since 1988 he has been associated with Lincoln Christian College and Seminary, serving as Academic Dean (1988-1993) and is presently professor of Old Testament and Biblical Languages. He has written articles for Integrity, Christian Standard , Stone-Campbell Journal and world studies in the revised International Standard Bible Encyclopedia (volume 4). Zorn will edit and finish the second volume of Psalms in this series.
About the Editors:
Terry Briley, PhD
, is a associate professor of Bible at Lipscomb University, Nashville, Tennessee, since 1986. Terry Briley received the BA from David Lipscomb College (now Lipscomb University), then a MPhi. and PhD from Hebrew Union College, Cincinnati, Ohio. In addition to teaching at Lipscomb University, he is the Senior Minister at Natchez Trace Church of Christ and leads an annual summer mission trip to Brazil.

Paul J. Kissling, PhD, is professor of Old Testament and Biblical Languages and Area Chair in Bible/Theology at Great Lakes Christian College, Lansing, Michigan. He is an elder at Meridian Christian Church in Okemos. Paul Kissling received the Bachelor's degree from Great Lakes Christian College, the MDiv from Lincoln Christian Seminary, the ThM from Trinity Evangelical Divinity School, and the PhD from the University of Sheffield (England). Paul has taught and preached in over 15 countries and serves as Old Testament specialist on the Board of the Stone-Campbell Journal.
---
We Also Recommend