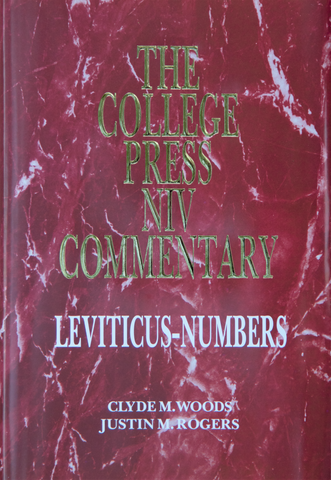 Leviticus & Numbers - NIV
College Press NIV Commentary Series is formatted with a verse-by-verse explanation of the text. It was developed for both the scholar and the average Bible student. The College Press NIV Commentary Series is the only full commentary set in print from the Restoration Movement. Each volume (41 volumes for the Old & New Testament) contains the following helpful features:
Biblically sound exegesis
Clear exposition
Objective approach
Concise introduction
New International Version of the Bible
Key word translation
Easy to use design format
Practical footnotes
And more!
Leviticus
The key theological concept of Leviticus is holiness. The phrase "holiness to the Lord" occurs approximately 150 times in the book. Thus, there is no doubt that the theology of Leviticus is a question of holiness. Whenever Israel is holy, they enjoy the state of purity, cleanness, and harmony with God. Whenever they are unholy, they are impure, unclean, and victims of cosmic chaos.
The Lord calls for loyalty to the new covenant just as he calls for obedience to the Mosaic legislation. The call for purity among the Lord's people and single allegiance to his will still resonates, and Christians can learn from Leviticus to reverence the sacred space within their hearts created by the presence of their sovereign holy Lord. As priests ourselves among God's holy spiritual house, the church, we are called upon "to be a holy priesthood, offering spiritual sacrifices acceptable to God through Jesus Christ" (1 Pet. 2:5) and even to consider our bodies "as living sacrifices, holy and pleasing to God" as our "spiritual act of worship" (Rom. 12:1). In different frame then, Leviticus can instruct us concerning human sinfulness and God's gracious provision for atonement, healing, and hope so that we can truly be "a chosen people, a royal priesthood, a holy nation, a people belonging to God," fit for God's holy and sacred presence within us (1 Pet. 2:9).
Many have said that in order to preach and teach effectively from the New Testament, you must have a grasp of Leviticus.
Numbers
The theme of Numbers is the wilderness experience of Israel. The trek from Sinai to Canaan that should have required but a few months at most was extended by the people's disobedience to a period of nearly forty years, a time that allowed the passing of one generation and the maturation of the next one.
The message of Numbers involves promise and hope but, for the most part, it is hope deferred and promise delayed. While two generations of Israelites do come into focus in the book, by any reckoning the greater stress is on the first of these, the rebellious generation that witnessed the miracles of the Exodus, received the Lord's instruction at Sinai, and departed enthusiastically to go to Canaan, only to see their robust optimism melt in the desert heat and the other harsh realities of the wilderness.
Leviticus & Numbers has 393 pages.
ISBN 978-0-89900-878-X
WEB-878
Leviticus Introduction & Outline
Leviticus Pure Priests
Numbers Introduction & Outline
Numbers Nazirite
---
About the Authors:
Dr. Clyde M. Woods is professor of Bible at Freed-Hardeman University, Henderson, Tennessee where he teaches undergraduate and graduate courses in Bible and biblical languages. He holds degrees from Memphis State University, 1956; AA., Freed-Hardeman College, 1957; BA, Abliene Christian College, 1958; MA, Harding College Graduate School of Religion, 1959; MRE., MTh, Harding College Graduate School of Religion, 1961; PhD, Hebrew Union College, 1965; and Hebrew Union College, 1971. Dr. Woods has authored several books and has contributed numerous articles for print and presentation at various Christian college lectureships.
Justin M. Rogers is the author of several articles. He holds bachelors and masters degrees from Freed-Hardeman University, and is currently pursuing a PhD.
About the Editors:
Terry Briley, PhD, is an associate professor of Bible at Lipscomb University, Nashville, Tennessee, since 1986. Terry Briley received the BA from David Lipscomb College (now Lipscomb University), then a MPhil and PhD from Hebrew Union College, Cincinnati, Ohio. In addition to teaching at Lipscomb University, he is the Senior Minister at Natchez Trace Church of Christ and leads an annual summer mission trip to Brazil.
Paul J. Kissling, PhD is Professor of Old Testament and Biblical Languages and Area Chair in Bible/Theology at Great Lakes Christian College, Lansing, Michigan. He is an elder at Meridian Christian Church in Okemos. Paul Kissling received the Bachelor's degree from Great Lakes Christian College, the MDiv from Lincoln Christian Seminary, the ThM from Trinity Evangelical Divinity School, and the PhD from the University of Sheffield (England). Paul has taught and preached in over 15 countries and serves as Old Testament specialist on the Board of the Stone-Campbell Journal.
---
We Also Recommend