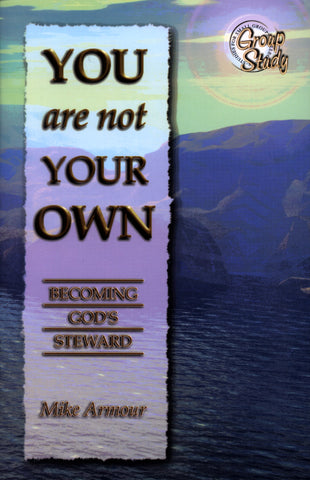 You are not Your Own
Overview
You are not Your Own is a probing review of what the Bible teaches about stewardship. A healthy understanding of biblical stewardship will remedy the problem of childish priorities.
What is a steward? A steward is simply a manager. Christian stewardship, then, consists of conscientious living as well as unselfish giving. We need to understand the biblical concept of being entrusted with the management of "the things of God." Stewardship is a matter of responsibility and accountability for our total conduct. God demonstrates his confidence in us by investing his inventory of tangible and intangible things with us.
You are not Your Own contains 4 lessons and 39 pages.
ISBN 978-0-89900-701-4
WEB-701
Special Bulk Pricing

Ordering more than 10 copies of this book?

Contact us for special pricing on bulk orders.
417.623.6280
collpressjoplin@gmail.com
Other Books By This Author
La Biblia al alcance de todos por Michael C Armour (A Newcomer's Guide to the Bible)
Newcomer's Guide to the Bible - Workbook
About the Author
Dr. Michael C. Armour has over 40 years of ministry experience and is currently the president of Easter European Mission. He also is the president of Strategic Leadership Development International. He has served as a college president and is a retired naval reserve captain in the field of intelligence. He holds a PhD from UCLA in the intellectual and cultural history of Europe, with a specialization in the Protestant Reformation.
---
We Also Recommend