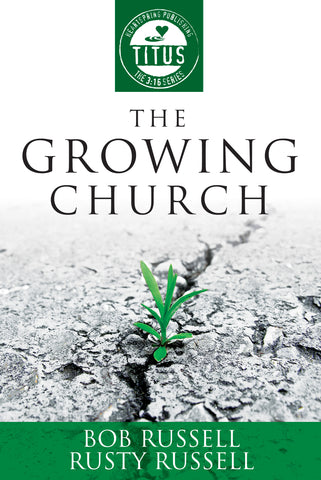 Titus: The Growing Church
Overview
The Kingdom of God is much more than announcing the minimum requirements necessary to get to heaven. It's about transforming lives to be like Christ. Everyone in the church is still a work in progress. How do we grow up and be like our Lord Jesus? How can we help His church grow?

The best place to find answers to questions about how God's church is to grow is the Bible; and a great place to start is the book of Titus.

This compelling book designed for a small group study by Bob & Rusty Russell will help every reader appreciate being a part of The Growing Church. The life-changing truths found in Titus will help equip every follower of Jesus to be more like Him. Be inspired and challenged to get dirt under your fingernails and really grow the Kingdom!

The Growing Church has 10 chapters and 110 pages.
ISBN 978-0-89900-928-5
WEB-928
Special Bulk Pricing

Ordering more than 10 copies of this book?

Contact us for special pricing on bulk orders.
417.623.6280
collpressjoplin@gmail.com
Excerpt
"The best place to find answers to questions about how to handle a rapidly growing congregation is the Owner's Manual. The church is the body of Christ; God's Word best explains what the body of Christ should be doing during its growth period. One great place to start in God's Word is the book of Titus.
On one of his missionary journeys, Paul had planted a church on the island of Crete and had appointed Titus as the senior minister of this growing congregation. The island of Crete must have been a dreadful place to try to build a church. Paul says that one of their own writers described the Cretans as 'liars, evil brutes, lazy gluttons' (Titus 1:12). But even on this pagan and spiritually hardened island, Paul and Titus had established a growing congregation.
Later Paul wrote Titus a letter giving him instructions on how to order the church during its growth period. A careful study of this letter will remind church leaders of some basic truths regarding what God wants for the body of Christ and will help to ensure that your congregation remains on the right track throughout its growth, regardless of the pressures from the outside world." (pp. 4-5)

Other Books by This Author
Cuando Dios construye una iglesia (When God Builds a Church)

About the Author
Bob Russell retired in June 2006 from Southeast Christian Church in Louisville, Kentucky, after forty years of faithful service. He now travels and speaks for Christ all over the world.

Rusty Russell serves as the senior minister of the New Day Christian Church in Port Charlotte, Florida. He has been a Senior Minister, Campus Pastor, a Christian school teacher, and served in several roles at Southeast Christian Church before his move to Florida.
---
We Also Recommend