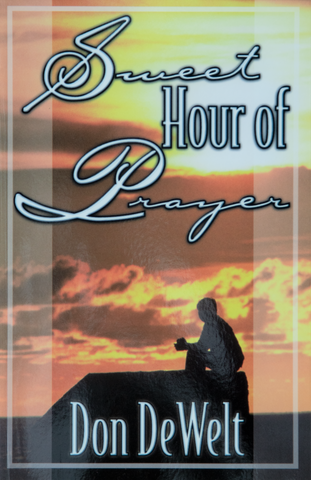 Sweet Hour of Prayer
Overview
Can you or your small group benefit from a more powerful prayer life? This helpful study walks you through an hour of prayer each day. Even if an hour a day feels out of reach, you will find valuable insight into maximizing the time you do have.
Sweet Hour of Prayer has 12 chapters and 76 pages.
ISBN 978-0-89900-716-8
WEB-716
Special Bulk Pricing

Ordering more than 10 copies of this book?

Contact us for special pricing on bulk orders.
417.623.6280
collpressjoplin@gmail.com
Excerpts
"The most common problem interfering with effective prayer is sin. If you have unconfessed sin or a broken relationship which you have not made every effort to heal or a spirit of bitterness and unforgiveness toward someone, you are not going to be praying effectively." (p. 10)

"Just as you would begin a conversation with a friend by asking after her and showing concern for her life, you should begin a conversation with God by thinking about Who He is, about His majesty and glory and holiness." (p. 15)

Other Books by this Author
Biografía de la iglesia primitiva (Acts Made Actual)
Si tu quieres predicar por Don DeWelt (If You Want to Preach)
About the Author
Don DeWelt graduated from San Jose Bible College (now William Jessup University.) He received an honorary Doctorate of Letters from Milligan College. He taught for 15 years at San Jose Bible College and moved to Joplin, Missouri in 1957 to begin a 30 year teaching career at Ozark Bible College (now Ozark Christian College.) He and his wife, Elsie, founded College Press Publishing in 1959. From the time of his high school conversion, he preached revivals and presented seminars all over the world until his death in 1991.
---
We Also Recommend