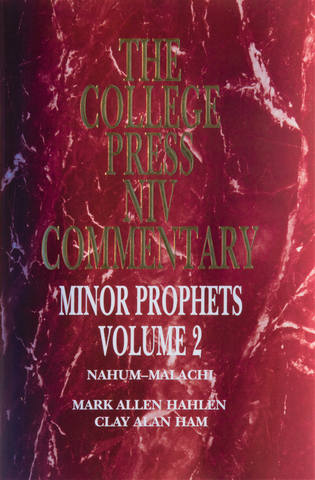 Minor Prophets Volume 2 - NIV
College Press NIV Commentary Series is formatted with a verse-by-verse explanation of the text. It was developed for both the scholar and the average Bible student. The College Press NIV Commentary Series is the only full commentary set in print from the Restoration Movement. Each volume (41 volumes for the Old & New Testament) contains the following helpful features:
Biblically sound exegesis
Clear exposition
Objective approach
Concise introduction
New International Version of the Bible
Key word translation
Easy to use design format
Practical footnotes
And more!
Minor Prophets Volume 2:
The act of reading and interpreting the Bible requires contemporary readers to traverse from their world to the world of the text. However, a cultural distance between the two worlds complicates this journey. Biblical authors use images from ancient agriculture and warfare that are distant to modern readers. They refer to events, circumstances, geographical entities, and sociopolitical realities familiar to the text's original audience, but not part of a frame of reference for contemporary readers.
Both general Bible readers and others doing in-depth biblical research should find helpful this volume for diminishing or closing the distance between the biblical audience and contemporary readers. As a result, they may better read, understand, and be challenged by the messages of the prophets.
Nahum, Habakkuk, Zephaniah, Haggai, Zechariah, and Malachi are the final six books in a twelve-book collection often referred to as the Minor Prophets. This name refers to their relative brevity as opposed to their diminished significance. They circulated together with the first six books of the collection (Hosea, Joel, Amos, Obadiah, Jonah, and Micah) in an anthology known to the Jews as the Book of the Twelve, the final book in the section of the Hebrew Scripture known as the Prophets.
Minor Prophets Volume 2 has 583 pages.
ISBN 978-089900-895-0
WEB-895
Minor Prophets Vol. 2 General Introduction
Nahum Introduction & Outline
Habakkuk Introduction & Outline
Habakkuk Chapter 2
Zephaniah Introduction & Outline
Haggai Introduction & Outline
Zechariah Outline & Vision
Malachi Introduction
---
About the Authors:
Dr. Mark Allen Hahlen has served as professor of Bible and Language at Dallas Christian College and as a visiting professor at Louisville Bible College since 1992. Before that, he served on the faculty of Louisville Bible College from 1985 to 1992. Dr. Hahlen received his MDiv and PhD from Southern Baptist Theological Seminary and his BA from Johnson Bible College. He has held youth and preaching ministries in Tennessee, Kentucky, and Texas. He and his wife Brenda live in Farmers Branch, Texas, and have two children, Joshua and Miranda.
Dr. Clay Alan Ham has served as professor of New Testament and Preaching at Dallas Christian College since 1988. He is also a visiting professor at Lakeview Bible Seminary, Chennai, India. Dr. Ham received his PhD from Southwestern Baptist Theological Seminary and his BA and MDiv from Lincoln Christian College and Seminary. He is author of The Coming King and the Rejected Shepherd: Matthew's Reading of Zechariah's Messianic Hope (Sheffield Phoenix Press, 1995). He and his wife Diane live in Flower Mound, TX, and have three children, Elizabeth, Emily and Allan.
About the Editors:
Terry Briley, PhD, is a associate professor of Bible at Lipscomb University, Nashville, Tennessee, since 1986. Terry Briley received the BA from David Lipscomb College (now Lipscomb University), then a MPhil and PhD from Hebrew Union College, Cincinnati, Ohio. In addition to teaching at Lipscomb University, he is the Senior Minister at Natchez Trace Church of Christ and leads an annual summer mission trip to Brazil. 
Paul J. Kissling, PhD, is professor of Old Testament and Biblical Languages and Area Chair in Bible/Theology at Great Lakes Christian College, Lansing, Michigan. He is an elder at Meridian Christian Church in Okemos. Paul Kissling received the Bachelor's degree from Great Lakes Christian College, the M.Div. from Lincoln Christian Seminary, the Th.M. from Trinity Evangelical Divinity School, and the PhD from the University of Sheffield (England). Paul has taught and preached in over 15 countries and serves as Old Testament specialist on the Board of the Stone-Campbell Journal.
---
We Also Recommend