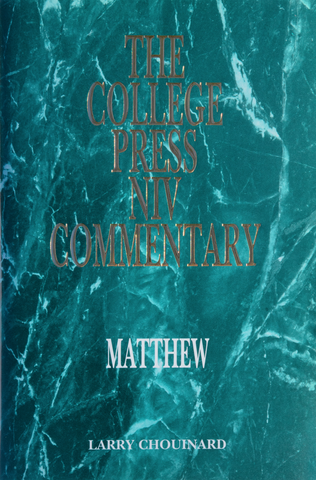 Matthew - NIV
College Press NIV Commentary Series is formatted with a verse-by-verse explanation of the text. It was developed for both the scholar and the average Bible student. The College Press NIV Commentary Series is the only full commentary set in print from the Restoration Movement. Each volume (41 volumes for the Old & New Testament) contains the following helpful features:
Biblically sound exegesis
Clear exposition
Objective approach
Concise introduction
New International Version of the Bible
Key word translation
Easy to use design format
Practical footnotes
And more!
Matthew:
How are Christians to Act in this world?
Are we still subject to the Law?
What is God's view of marriage? Divorce?
How can the average person achieve a greater righteousness?
The Gospel of Matthew provides us with intriguing answers to these questions through the life story of the Lord Jesus. Through precise and well thought out commentary, Dr. Chouinard underscores the text of Matthew with historical insights, textual research and cultural understandings that bridge nineteen centuries, animating the spectacular story of God coming to save his people!
This theme weaves through the fabric of Matthew. God coming to humanity. Not willing to wait, God must take action. At Sinai God was distant, immense and overwhelming. In the Gospel of Matthew a revolution of understanding God has taken place. No longer will God be confined to the temple and "religious" worship. He is warm and compassionate, seeing the lost, helping the sick, feeding the multitudes. God is human, God is close at hand, God is living!
Divided into five major discourses, Matthew's Gospel seeks "common ground" between deity and humanity. This commentary is outlined in the following five major discourses:
The Sermon on the Mount discourse
The Missionary discourse
The Parables discourse
Life in the Christian Community discourse
The Judgment to Come discourse
This "common ground" provides the Christian with all of the tools needed to train, equip, rebuke and exhort in all righteousness and for all occasions. Matthew is the epitome of readiness. This is the spiritual food every Christian needs to grow a healthy spiritual life with a strong focus on Christ.
If you are a seeker, looking for the truth about Jesus...
If you are seeking a renewed and fresh relationship with the Savior...
If you are a Christian seeking stronger ties and sustained spiritual growth...
If you are looking for a dynamic and fresh commentary on Matthew...
This book will excite and delight you!
Matthew has 512 pages.
ISBN 978-0-89900-628-0
WEB-628
Matthew Introduction & Outline
---
About the Author:
Larry Chouinard, PhD received his BA and MA from Alabama School of Religion, his MTh from Harding Graduate School of Religion, and his PhD from Fuller Theological Seminary. Currently he is professor of New Testament at Kentucky Christian College.
About the Editors:
Anthony L. Ash, PhD, is professor of Biblical Studies at Abilene Christian University and minister at Minter Lane Church of Christ, Abilene, Texas. Dr. Ash holds the BS from Florida State University, the MA from Abilene Christian University, and the PhD from University of Southern California. He has authored nine books including commentaries on Luke, Acts (Chapter 1-12), Psalms (with Clyde Miller), and Jeremiah & Lamentations. He has spoken at over 400 meetings and extended lectureships and has also spoken on over 45 college and university campuses.
Jack Cottrell, PhD, served many years as professor of Theology at Cincinnati Christian Seminary, Cincinnati, Ohio. Dr. Cottrell holds the AB from Cincinnati Bible Seminary, the AB from University of Cincinnati, the MDiv from Westminster Theological Seminary and the PhD from Princeton Theological Seminary. He has authored nine books including God Most High: What the Bible Says About God the Creator, Ruler, Redeemer,Holy Spirit: A Biblical Study, and The Faith Once for All.
---
We Also Recommend