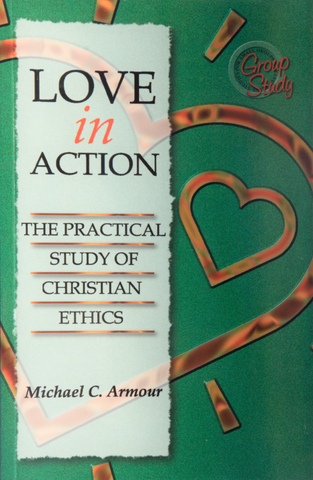 Love in Action
Overview
How is it possible to command love? What is the interrelationship of faith, hope and love? How does faith and love actually conquer fear?

Here is a practical small group study that digs into tough ethical choices that believers face. Working from the "two greatest commandments," as well as many other texts, Armour leads the reader (and the study group) through the necessary implications of applying love to life's sticky and challenging situations.

This study grew from Armour's many counseling sessions with lifelong members of the church who thought that they were practicing love, but in fact were not. The key to a breakthrough came when the discussion moved forward from a doctrinal or conceptual level to a translation of love into "the habits of the heart."

The author writes in a clear and succinct manner. He does not shy away from the tough questions that are an inherent part of this subject, while at the same time offering important thought processes for the discovery of workable answers to life's great questions.

This is a rewarding study that has been used for many years with several small groups. Many that have used it say that they go back and review what they studied years later to remind themselves how biblical love really does work.

Love in Action has 13 chapters and 74 pages.
ISBN 978-0-89900-720-5
WEB-720
Features
The thirteen chapters include these subjects and others:
Thou Shalt Love!
The First and Great Command
How Big is the Neighborhood?
As You Love Yourself
Love's First Instinct
Faith Working Through Love
Love Never Gives Up
Love Makes No Distinctions

Each chapter includes 6 - 9 discussion questions to facilitate small group interaction and to suggest other Scriptures for pursuing further the subject at hand.

Special Bulk Pricing

Ordering more than 10 copies of this book?

Contact us for special pricing on bulk orders.
417.623.6280
collpressjoplin@gmail.com
Other Books By This Author
La Biblia al alcance de todos por Michael C Armour (A Newcomer's Guide to the Bible)
Newcomer's Guide to the Bible - Workbook
About the Author

Dr. Michael C. Armour has over 40 years of ministry experience and is currently the president of Easter European Mission. He also is the president of Strategic Leadership Development International. He has served as a college president and is a retired naval reserve captain in the field of intelligence. He holds a PhD from UCLA in the intellectual and cultural history of Europe, with a specialization in the Protestant Reformation.
---
We Also Recommend