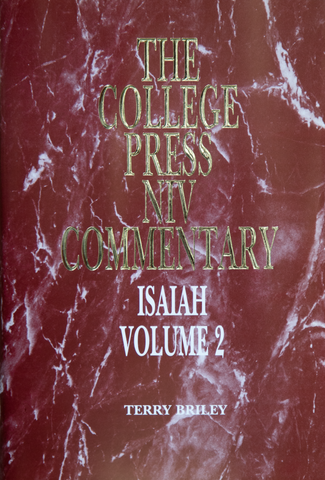 Isaiah Volume 2 - NIV
College Press NIV Commentary Series is formatted with a verse-by-verse explanation of the text. It was developed for both the scholar and the average Bible student. The College Press NIV Commentary Series is the only full commentary set in print from the Restoration Movement. Each volume (41 volumes for the Old & New Testament) contains the following helpful features:
Biblically sound exegesis
Clear exposition
Objective approach
Concise introduction
New International Version of the Bible
Key word translation
Easy to use design format
Practical footnotes
And more!
Isaiah Volume 2 (Chapters 28-66):
The New Testament quotes Isaiah more than any Old Testament book other than Psalms, but Isaiah offers much more to the Christian. The challenges the prophet Isaiah confronted in his ministry provide the backdrop for profound theological insights. During Isaiah's lifetime the Northern Kingdom fell and the Southern Kingdom was facing the future prospect of defeat and exile as well. In his critique of the sins that would cause Judah's fall to Babylon, Isaiah provides insights into the basic qualities God looks for in a relationship with his people.
The burning question remains how God can continue his covenant purpose through his chosen people if all that lies ahead is defeat and exile. The answer lies in the revelation Isaiah receives of a glorious future in which God overcomes his people's bondage to Babylon and ultimately their bondage to sin. The key to this future is the glorious nature of God.
Through his great command of language and imagery Isaiah conveys a God who is sovereign and powerful, but also faithful and compassionate; a God who is exalted above the heavens, but also at home with the humble and contrite; a God who brings devastating judgment, but also works and waits for sinners to return to him.
Such a God obviously cannot be appeased by external rituals or manipulated for selfish ends. By exposing Israel's false worship Isaiah unmasks Israel's failure to recognize these fundamental truths. The importation of idolatrous practices or pagan presuppositions about the nature of God undermines a relationship with God at the most basic level. 
Although God seeks and waits for and works to redeem sinful humanity, ultimately he judges those who reject his outstretched hand. But for those who acknowledge his power and his grace, who humble themselves and seek to be his light to the world, and who strive to become a just and compassionate community of faith, the richest blessings of the covenant God await.
God's nature has not changed since the days of Isaiah. Worship still serves as a barometer of a people's relationship with God. The responsibility to be God's light to a darkened world now resides in the church. Isaiah thus presents a timeless message for those who desire to know God and to respond to him properly.
Isaiah Volume 2 has 318 pages.
ISBN 978-0-89900-891-7
WEB-891
Isaiah Vol. 2 Chapters 28-39 Introduction & Outline
Isaiah Vol. 2 Chapters 40-66 Introduction & Outline
Isaiah Vol. 2 Hezekiah Prayer
Isaiah Vol. 2 Servant
---
About the author:
Terry Briley, PhD
, is an associate professor of Bible at Lipscomb University, Nashville, Tennessee, since 1986. Terry Briley received the BA from David Lipscomb College (now Lipscomb University), then the MPhil and PhD from Hebrew Union College, Cincinnati, Ohio. In addition to teaching at Lipscomb University, he is the Senior Minister at Natchez Trace Church of Christ and leads an annual summer mission trip to Brazil.
About the editor:

Paul J. Kissling, PhD is Professor of Old Testament and Biblical Languages and Area Chair in Bible/Theology at Great Lakes Christian College, Lansing, Michigan. He is an elder at Meridian Christian Church in Okemos. Paul Kissling received the Bachelor's degree from Great Lakes Christian College, the MDiv from Lincoln Christian Seminary, the ThM from Trinity Evangelical Divinity School, and the PhD from the University of Sheffield (England). Paul has taught and preached in over 15 countries and serves as Old Testament specialist on the Board of the Stone-Campbell Journal.
---
We Also Recommend