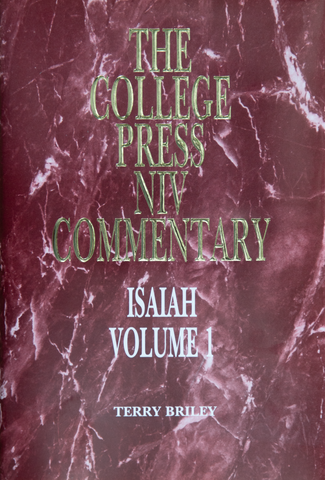 Isaiah Volume 1 - NIV
College Press NIV Commentary Series is formatted with a verse-by-verse explanation of the text. It was developed for both the scholar and the average Bible student. The College Press NIV Commentary Series is the only full commentary set in print from the Restoration Movement. Each volume (41 volumes for the Old & New Testament) contains the following helpful features:
Biblically sound exegesis
Clear exposition
Objective approach
Concise introduction
New International Version of the Bible
Key word translation
Easy to use design format
Practical footnotes
And more!
Isaiah Volume 1(Chapters 1-27):
The reader of a book as large as Isaiah needs some sense of the structure of the whole in order to grasp the significance of the individual segments. A major issue for understanding both the structure and the unity of the book is the narrative section in chapters 36-39. These chapters connect the poetic portions in chapters 1-35 and 40-66. Chapters 1-35 reflect the backdrop of the Assyrian crisis and culminate in the deliverance of Jerusalem from Sennacherib through the faith of Hezekiah (chapters 36-37). Chapters 38-39 describe God's extension of Hezekiah's life, the arrival of Babylonian envoys to congratulate him (and promote and alliance between them), and God's announcement of the future Babylonian exile. These events set the stage for chapters 40-66, which reflect the backdrop of the return from Babylonian exile. The fact that the events of chapters 38-39 predate those of chapters 36-37 indicates a deliberate arrangement which affirms the unity of Isaiah.
Isaiah 1-39 may be divided into three major sections. Chapters 1-12 hinge around the call of Isaiah in chapter 6. The first five chapters focus on Judah's dangerous spiritual condition, characterized by ingratitude, insincere worship, corruption, and idolatry. Two glimmers of hope appear in 2:1-4 and 4:2-6, but the prevailing tone is one of doom. Chapters 7-12 highlight the weak faith of Ahaz as representative of Judah's fundamental problem. God's judgment, it is clear, will come by means of the dreaded Assyrians. They are merely God's instrument, however, and hope shines brighter in this section on the basis of God's covenant with David. A descendant of David will be the agent for the transformation of Judah's bleak near future to a time of the fulfillment of God's greatest covenant promises. The presentation of Isaiah's call, cleansing, and commission in chapter 6 not only establishes his prophetic credentials, but it also establishes Isaiah's experience with God as the model for Judah's conversion as well. This conversion will not occur in Isaiah's lifetime, however, for he is told that the people will be unresponsive to his message.
Isaiah 13-27 serves to warn Judah neither to fear nor to form an alliance with other nations. Through a series of messages to various neighboring nations, God demonstrates that he is not simply the regional God of Judah. All nations are under his sovereign rule and all must answer to him for their sins. God is also concerned for these nations and their salvation through his covenant people. If his covenant people become like the pagan nations, they cannot be a vehicle of salvation but must instead experience God's judgment like the others. This section culminates with a more generalized, semi-apocalyptic examination of the reality and purpose of God's judgment (chapters 24-27).
Isaiah Volume 1 has 253 pages.
ISBN 978-0-89900-890-9
WEB-890
Isaiah Vol. 1 Preface
Isaiah Vol. 1 Introduction
Isaiah Vol. 1 Outline
Isaiah Vol. 1 Fulfillment
---
About the author:
Terry Briley, PhD
, is an associate professor of Bible at Lipscomb University, Nashville, Tennessee, since 1986. Terry Briley received the BA from David Lipscomb College (now Lipscomb University), then a MPhil and PhD from Hebrew Union College, Cincinnati, Ohio. In addition to teaching at Lipscomb University, he is the Senior Minister at Natchez Trace Church of Christ and leads an annual summer mission trip to Brazil.
About the editor:
Paul J. Kissling, PhD is Professor of Old Testament and Biblical Languages and Area Chair in Bible/Theology at Great Lakes Christian College, Lansing, Michigan. He is an elder at Meridian Christian Church in Okemos. Paul Kissling received the Bachelor's degree from Great Lakes Christian College, the MDiv from Lincoln Christian Seminary, the ThM from Trinity Evangelical Divinity School, and the PhD from the University of Sheffield (England). Paul has taught and preached in over 15 countries and serves as Old Testament specialist on the Board of the Stone-Campbell Journal.
---
We Also Recommend