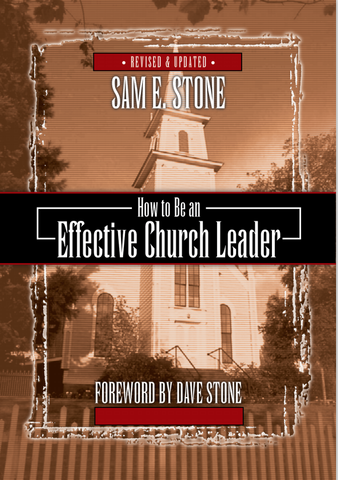 How to Be an Effective Church Leader
Overview
"Some books on leadership don't really scratch where people itch. They simply expound and confuse. But the questions answered in this book are the ones leaders are asking today. The material is practical, easy-to-read, and vital to anyone in ministry." -From Dave Stone's Foreword
In this book, Sam Stone lays the foundation for effective leadership by combining principles taken straight from Scripture with practical advice from life experience. He reminds us that churches can only do their best work when excellent leadership is present. He tackles timely topics like:
The real head of the church
Qualities of a good leader
The spiritual disciplines a leader must practice
The expectations a leader will face
Suggestions for maximizing board meetings
Dynamics of the preacher/elder relationship
If you are considering a church leadership position, or even if you are a veteran leader, Sam Stone's timeless advice will provide you with insight and encouragement.
How to be an Effective Church Leader has 12 chapters and 94 pages.
ISBN 978-0-89900-899-8
WEB-899
Special Bulk Pricing

Ordering more than 10 copies of this book?

Contact us for special pricing on bulk orders.
417.623.6280
collpressjoplin@gmail.com
About the Author
Sam E. Stone's lifetime of leadership includes more than twenty years in the preaching ministry, service as an elder, and a career as editor of Christian Standard. President of the 1997 North American Christian Convention, he is the author of two previous books, Grounded Faith for Growing Christians and The Christian Minister
---
We Also Recommend