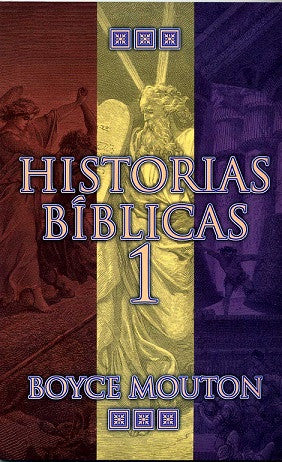 Historias bíblicas 1 by Boyce Mouton (Bible Stories 1)
   Una narración simple e impresionante por Boyce Mouton de grandes historias y personajes de la biblia, como La creación, Noé y el diliuvio, José, Moisés, Balaam, Sansón, David Salomón, etc. El autor concluye cada narracón con puntos y notas de enseñanza espiritual. 
168 páginas  
Retail: $9.00
Sale: $7.20
ISBN: 978-1-930992-08-5
WEB-2085
Historias bíblicas 1  by Boyce Mouton (Bible Stories 1)
      A simple and impressive narration by Boyce Mouton of the great Bible stories and their famous people, such as Creation, Noah and the flood, Joseph, Moses, Balaam, Samson, David, Solomon, etc. The author concludes each narration with points and notes of spiritual teaching.
168 pages
Retail: $9.00
Sale: $7.20
ISBN: 978-1-930992-08-5
WEB-2085
---
We Also Recommend