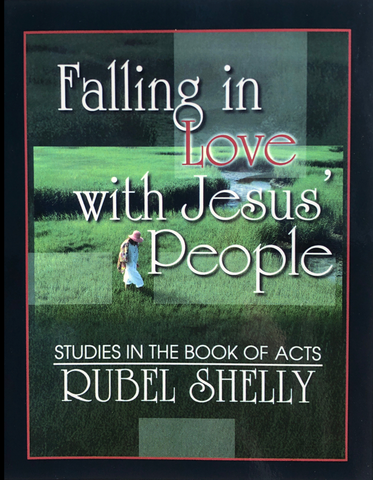 Falling in Love with Jesus' People: Studies in the Book of Acts
Overview
What problems faced the first church?

What did they believe?

How did they act?

What did they hold dear?
These are the questions most on the minds of those who read the book of Acts. But did you know that the church also faced...
Embezzlement, treachery, murder, demonic attacks, world uncertainty, theological questions and persecution? Sound familiar? Although 2000 years have come and gone, we still struggle against the same foe, still fight the good fight and still deal with the same issues.
This study deals with the church and her people in a setting that is as familiar today as it was when the church chartered her first member. As you chart your course through the book of Acts, Rubel will introduce you to the men and women who defied an empire, crushed the bastions of hell and stood up for Jesus.
Designed for individual, small group or whole church use.
Falling in Love with Jesus' People is set up for 33 weekly studies and has 258 pages.
ISBN 978-0-89900-803-8
WEB-803
Special Bulk Pricing

Ordering more than 10 copies of this book?

Contact us for special pricing on bulk orders.
417.623.6280
collpressjoplin@gmail.com
Other Books by This Author
About the Author
Dr. Rubel Shelly is an author, minister, and professor at Lipscomb University. He is the former president of Rochester College.
---
We Also Recommend