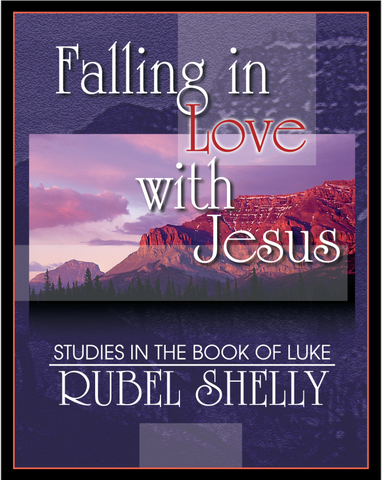 Falling in Love with Jesus: Studies in the Book of Luke
Overview
He touched the diseased, restored the dead to life, gave up the glory of heaven for a life of sorrow, sweat and tears.  Could he really have done this for you and me?
The writer of Luke taught that he did!  This energetic young doctor fell in love with the idea of God coming to save all people.  
Falling in Love with Jesus is a foundational study that introduces you to the Savior as you have never been introduced before.  You won't find theological theory, intellectual posturing, or doctrinal philosophizing.  You will find a warm and caring friend, ready, willing and able to share the joys and sorrows of your life.  Designed for individual, small group, or whole church use!
35 Lessons, 240 pages
ISBN: 0-89900-802-0
WEB-802
Special Bulk Pricing

Ordering more than 10 copies of this book?

Contact us for special pricing on bulk orders.
417.623.6280
collpressjoplin@gmail.com
Excerpt
"The Gospel of Luke has been an encouragement to Christians since it first became available in the early 60s of the Christian Era. It tells the life of Jesus through the eyes of a physician and dedicated historian. Luke traveled the biblical lands and interviewed those who were with Jesus in order to tell the story of Jesus as accurately as possible.
The approach of this study of Luke is designed to help you get acquainted with Jesus of Nazareth on a personal level. It focuses on each Christian being able to develop a one-on-one relationship with the One who loves them best. It will reveal Jesus to you as the Son of God, Son of Man, and Savior of All. We will draw close to him by celebrating his birth, traveling with him as he preaches, learning his heart through his parables, and sharing once again in the agony of his death and joy of his resurrection.
Two thousand years after Jesus walked the roads of Galilee, we sometimes find it difficult to feel personally involved with who he is. Our desire is that this study of Luke will help you overcome this barrier of time and space and discover the blessing of a warm camaraderie with the love of your life." (p. 6).

Other Books by This Author
Falling in Love With Jesus' People
About the Author
Dr. Rubel Shelly is an author, minister, and professor at Lipscomb University. He is the former president of Rochester College.
---
We Also Recommend