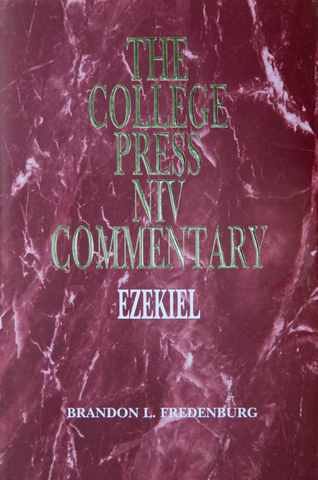 Ezekiel - NIV
College Press NIV Commentary Series is formatted with a verse-by-verse explanation of the text. It was developed for both the scholar and the average Bible student. The College Press NIV Commentary Series is the only full commentary set in print from the Restoration Movement. Each volume (41 volumes for the Old & New Testament) contains the following helpful features:
Biblically sound exegesis
Clear exposition
Objective approach
Concise introduction
New International Version of the Bible
Key word translation
Easy to use design format
Practical footnotes
And more!
Ezekiel:
The book of Ezekiel is notoriously strange. Ezekiel's visions, actions, and words are bizarre--sometimes utterly incomprehensible--to us. He lies on his side for over a year, he eats a scroll, he is asked to cook with human waste, and he cannot cry at his wife's death. Ezekiel's message seems unavailable to many because we simply do not  have "ears to hear."
Or, perhaps, we don't have "eyes to see." Ezekiel paints pictures with words. And what pictures they are! In chapter 1, Ezekiel describes strange "living creatures" carrying a "likeness of the image of the glory of the Lord." In chapters 16 and 23, he paints almost obscene sexually graphic images. And he portrays a cartoonish feast of vultures and jackals at a banquet eating the dismembered parts of Gog, head of Meshech and Tubal, and his allies in chapter 39. Ezekiel's pictures attempt to provoke awe, curiosity, grief, horror, shock, and disgust. He wages an all-out attack on his audience's senses.
But why? Because God, through Ezekiel, uses every means to get his people's attention. God wants them to turn to him in love and obedience. All the stops are removed as God uses the whole realm of human experience to grab his audience by the heart. God loves his people with an intense covenant love, and he will try to move heaven and earth--and their hearts--to win their affection again. If only the human heart were as easy to move as heaven and earth!
The basic message of Ezekiel is not hard to understand. Like a parent, God punishes only to deliver from harm; his loving embrace comes at the end. In some ways, we can find reflections of ourselves in Ezekiel's ancient audience. And if we stand alongside them and truly listen (and truly see), we will come away the better for it. Perhaps God will woo us closer to himself through Ezekiel's words.
Ezekiel has 407 pages.
ISBN 978-0-89900-893-6
WEB-893
Ezekiel Preface
Ezekiel Introduction & Outline
Ezekiel Chapter 40
Ezekiel Bless and Curse
---
About the Author:
Brandon L. Fredenburg is assistant professor of Biblical Studies, Lubbock Christian University, Lubbock, Texas. Formerly he served as Instructor in Bible at Lipscomb University in Nashville, Tennessee and was Associate Minister of the Central Church of Christ in Nashville. Brandon received the BA in Biblical Languages from David Lipscomb College, the MA from Lipscomb University, the MDiv from Beeson Divinity School of Samford University, and is PhD candidate in Biblical Interpretation from The University of Denver and The Iliff School of Theology. Brandon and his wife, Beverly have three children: John, Jennifer, and Joshua.
About the Editors...
Terry Briley, PhD
, is a associate professor of Bible at Lipscomb University, Nashville, Tennessee, since 1986. Terry Briley received the BA from David Lipscomb College (now Lipscomb University), then a MPhil and PhD from Hebrew Union College, Cincinnati, Ohio. In addition to teaching at Lipscomb University, he is the Senior Minister at Natchez Trace Church of Christ and leads an annual summer mission trip to Brazil. 

Paul J. Kissling, PhD, is professor of Old Testament and Biblical Languages and Area Chair in Bible/Theology at Great Lakes Christian College, Lansing, Michigan. He is an elder at Meridian Christian Church in Okemos. Paul Kissling received the Bachelor's degree from Great Lakes Christian College, the M.Div. from Lincoln Christian Seminary, the Th.M. from Trinity Evangelical Divinity School, and the PhD from the University of Sheffield (England). Paul has taught and preached in over 15 countries and serves as Old Testament specialist on the Board of the Stone-Campbell Journal.
---
We Also Recommend