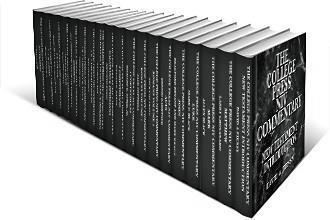 Complete NIV Commentary Set
College Press NIV Commentary Series is formatted with a verse-by-verse explanation of the text. It was developed for both the scholar and the average Bible student. The College Press NIV Commentary Series is the only full commentary set in print from the Restoration Movement.
[Note: The commentary set varies in color and type of cover, so all volumes in the set will not be identical in appearance.]
Each volume (41 volumes for the Old & New Testament combined) contains the following helpful features:
Biblically sound exegesis
Clear exposition
Objective approach
Concise introduction
New International Version of the Bible
Key word translation
Easy to use design format
Practical footnotes
And more!
About the Editors:
Anthony L. Ash, PhD, is professor of Biblical Studies at Abilene Christian University and minister at Minter Lane Church of Christ, Abilene, Texas. Dr. Ash holds the BS from Florida State University, the MA from Abilene Christian University, and the PhD from University of Southern California. He has authored many books including commentaries on Luke, Acts (Chapter 1-12), Psalms (with Clyde Miller), and Jeremiah & Lamentations. He has spoken at over 400 meetings and extended lectureships and has also spoken on over 45 college and university campuses.
Jack Cottrell, PhD, is professor of Theology at Cincinnati Christian Seminary, Cincinnati, Ohio. Dr. Cottrell holds the AB from Cincinnati Bible Seminary, the AB from University of Cincinnati, the MDiv from Westminster Theological Seminary and the PhD from Princeton Theological Seminary. He has authored numerous books including God Most High: What the Bible Says About God the Creator, Ruler, Redeemer, and The Faith Once For All.
---
We Also Recommend