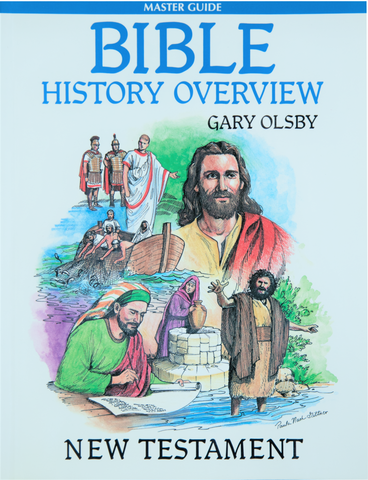 Bible History Overview New Testament (Master Guide)
Overview
One of the things that makes this study popular among church people is that it is simple to understand. It was not written to scholars but to the average person in the pew.
This resource gives a general overview of the New Testament in 26 life changing-lessons.
This book contains both the Teacher's Guide and the Student's pages.
Bible History Overview- New Testament has 26 chapters and 158 pages.
ISBN 978-0-89900-443-1
WEB-443
Excerpts
"The purpose of this study is not only to give people the 'big picture' of the Bible. It is designed to bring 'new life' to adult Sunday School. It becomes a 'church growth' tool, drawing many new people into Sunday School. Many churches have 'big days' to draw people in, which is great. This study, however, draws people in not only for one day, but for a long-term study. Once they get into a habit of coming, they continue to come." (back cover)
"Anyone desiring to become Christ's disciple must daily be willing to put his own interests and wishes into the background and accept voluntarily and wholeheartedly the sacrifice and suffering that will be endured in His service. The 'cross' is not the ordinary human troubles and sorrows that all mankind experiences, but the persecution, self-sacrifice, and suffering Christians experience as a result of true faith in and obedience to Him." (p. 45)
About the Author
Gary received a Bachelor of Arts degree in Christian Education from Pacific Christian College (Fullerton, California) in 1978, and a Master of Arts degree in Christian Education from Talbot School of Theology (Biola University) in 1990. While at Talbot (1989) he was blessed to be listed among "Who's Who Among Students in American Universities & Colleges." Gary has been in full time Christian ministry since 1977. Over the years he has worked with many age groups, and currently he is the Men's Pastor at Northside Christian Church in Clovis, California. His favorite thing in life is his family (especially his five grandkids) and his favorite hobby is fishing (especially fishing in Alaska).
---
We Also Recommend