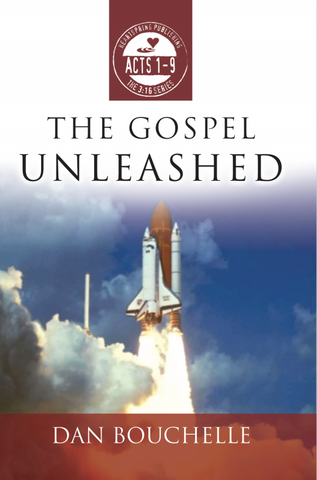 Acts 1-9: The Gospel Unleashed
Overview
This is a book designed for small group study. It is based on the book of Acts and speaks from the perspective that the account of the early church, as told by Luke, is a story that continues forward from the Gospel of Luke. In fact Acts is often called "Luke, Volume II."
Bouchelle guides the reader and the group participant from Acts 1:1 with the Lord Jesus commissioning His church right up through chapter 9 where the Apostle to the Gentiles, Saul of Tarsus who would become God's servant, Paul.
The author describes this study and approach in stating that we often seek to find patterns, models and examples in the book of Acts and seemingly fail to note the bigger picture. He likens this to picking meat off of the bones of a well roasted chicken as we seek to gain insights into structure and organization. "A skeleton maybe useful, but it doesn't taste good!"
Looking at Acts as an extension of the life of Jesus, many things fall into place that might otherwise go unnoticed. Rather than seeking highly specific expectations, the nature of the Lord's expectations for His church are shown to be that he desires to be clearly visible in the community of His disciples as they meet, as they worship, as they pray and as they enter the communities that are all around them.
The author writes in a clear and helpful way as he unpacks the book of Acts. In the sequel, The Gospel Unhindered, Bouchelle continues this important study through the book of Acts.

The Gospel Unleashed has 13 chapters and 103 pages.
ISBN 978-0-89900-493-8
WEB-493
Book Features
Easy-to-Follow Topics
Conveniently divided into thirteen chapters, there is a simple and easy progression through the biblical text. Each chapter is in fact a lesson for group study. Here are the chapters along with the text covered by that particular lesson:

And the Story Goes On – Acts 1:1-3
Are We There Yet? – Acts 1:4-11
Announcing Good News – Acts 2:1-41
A Personal Faith? – Acts 2:42-47
The Power of the Name Jesus – Acts 3:1-26
Diagnosing Diseased from Dynamic Religion – Acts 4:1-31
How Much is that Glory in the Window? – Acts 4:32 – 5:11
Who is in Charge Around Here Anyway? – Acts 5:17 – 6:7
Learning to Retell Our Story – Acts 6:8 – 8:3
It's Not Magic and It's Not For Sale – Acts 8:4-25
And the Walls Came Tumbling Down – Acts 8:26-40
The God of the Least Likely – Acts 9:1-31
Just Like Jesus – Acts 9:32-43

Thought Questions
In addition to very helpful explanations of the text as well as touching stories that illustrated the theme and aim of the text, each chapter also includes thought-provoking discussion questions to generate healthy group discussion.

Memory Verses
So as to emphasize the importance of the text itself, each chapter also challenges the participants to memorize a key verse or two verses from the passage under study that will help root the lesson and the study in the heart.
Special Bulk Pricing

Ordering more than 10 copies of this book?

Contact us for special pricing on bulk orders.
417.623.6280
collpressjoplin@gmail.com
Excerpts
"It is time we understood that the church is not an institution to maintain or a business with a product to sell. We are a people with a mission to fulfill. We are called to demonstrate the love of God as Jesus did. We demonstrate that the Kingdom of God is here. We invite people to enter it just as Jesus did. We are God's agents to help restore relationships between people and God and among each other." (p. 13).

"As important as church is, our focus should not be on the church, but on Jesus. The power to change lives is not in the church, but Jesus in the church. You can come to a church gathering and not be helped at all. Only if you encounter Jesus will you find the power to be transformed, and the church is the place Jesus encounters people most powerfully." (p. 102).

Other Books by This Author
About the Author
Dan Bouchelle has served in located ministry for well over thirty years in churches in Texas and Oklahoma. He has spoken for numerous churches, conferences, lectureships and seminars around the country and has also written When God Seems Absent which is a book based on the stories of Ruth and Esther.  
Dan holds a BS in Psychology from the University of Houston – Clear Lake, a MA, MDiv, and DMin from Abilene Christian University.
---
We Also Recommend