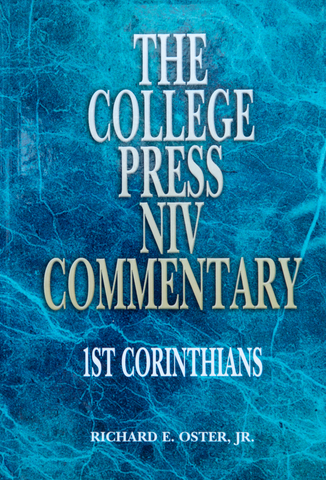 1 Corinthians - NIV
College Press NIV Commentary Series is formatted with a verse-by-verse explanation of the text. It was developed for both the scholar and the average Bible student. The College Press NIV Commentary Series is the only full commentary set in print from the Restoration Movement. Each volume (41 volumes for the Old & New Testament) contains the following helpful features:
Biblically sound exegesis
Clear exposition
Objective approach
Concise introduction
New International Version of the Bible
Key word translation
Easy to use design format
Practical footnotes
And more!
1 Corinthians:
First Corinthians was written to a church rocked by division, with great cracks developing over worldly issues and a misunderstanding of God's plan. The church at Corinth is a warning of what out churches today are fast becoming. The beloved church of the Corinthians has become world based, glory motivated, and grounded in immorality.
But there was hope! A hope found in a plan inspired by God. We call this plan 1 Corinthians. God's course of action, laid out in 1 Corinthians, brought repentance and unity to a church that seemed on the verge of collapse. This makes 1 Corinthians one of the most important books we can turn to for guidance, as we begin the long, difficult task of bringing our churches back to unity with God.
It is in this letter that we find many of the basic Christian truths that we hold today:
The Resurrection
The Sanctity of Marriage
Sexual Immorality
Civil Law
Church Discipline
Worship
Spiritual Gifts
And Much More!
Dealing with most of the issues in our churches today, 1 Corinthians brings you to a greater understand of God. This detailed plan also equips the Christian with the spiritual tools needed to bring unity and devotion to God out of chaos and disunity. If you are a Christian, a Sunday school teacher or a leader in the church, you will find 1 Corinthians a helpful addition to your library.
1 Corinthians has 412 pages.
ISBN 978-0-89900-633-8
WEB-663
1 Corinthians Foreword
1 Corinthians Introduction & Outline
---
About the Author:
Richard E. Oster, Jr., PhD received his BA from Texas Tech University in 1969, his MA from Rice University in 1971, and his PhD from Princeton Theological Seminary in 1974. He has done special studies at Princeton Theological Seminary and research at Franz J. Dolger Institut an der Universität Bonn. Dr. Oster has done his post-doctorate work in Vienna, Austria. Currently he is a professor of New Testament at Harding University Graduate School of Religion.
About the Editors:
Anthony L. Ash, PhD is professor of Biblical Studies at Abilene Christian University and minister at Minter Lane Church of Christ, Abilene, Texas. Dr. Ash holds the BS from Florida State University, the MA from Abilene Christian University, and the PhD from University of Southern California. He has authored many books including commentaries on Luke, Acts (chapters 1-12), Psalms (with Clyde Miller), and Jeremiah & Lamentations. He has spoken at over 400 meetings and extended lectureships and has also spoken on over 45 college and university campuses.
Jack Cottrell, PhD was Professor of Theology at Cincinnati Christian University for many years. He received his BA, ThB, Cincinnati Bible College & University; BA, University of Cincinnati; MDiv, Westminster Theological Seminary; PhD, Princeton Theological Seminary.
---
We Also Recommend