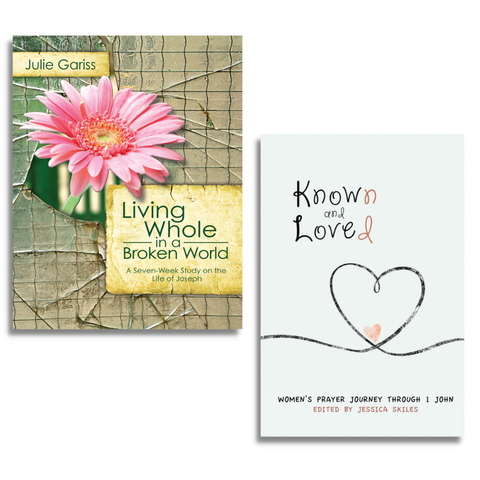 Women's Spiritual Growth Set
Overview
The Women's Spiritual Growth Set gives ladies a resource for persevering during life's challenges and a guide for cultivating her own spiritual growth. Ladies will learn how to develop rhythms of prayer, thoughtfully meditate on Scripture, and develop a godly mindset for each season of life.
Known and Loved: Women's Prayer Journey Through 1 John
Have you ever struggled to pray? Maybe you've said for years, "I need to read my Bible and pray more" but nothing ever sticks.

This 5-week prayer journey through 1 John is an invitation – not to "try harder" – but to settle into the understanding that you are truly known and loved by God as you encounter him through his Word.

About the Author
Jessica Skiles serves as the editor of this volume and although she contributes substantially to the content, she has invited a number of excellent contributors who lend their voices to this important journey of faith devotion. Contributors include: Rhonda Heyward, Danielle Wheeler, Michelle Schaffer, Caitlyn Edwards, Alexandria Brazle, and Kim McIntire.
Living Whole in a Broken World
Life can throw us so many curves, so many unexpected challenges. In the midst of the struggle it can seem that God is upset with us, or does not care, or perhaps has even abandoned us. 
Julie Gariss takes us on an insightful and memorable journey through the struggles of Joseph, a person who has surely traveled the road of life's difficulties. Useful as a personal study or in a group study environment, this helpful resource will equip us to live whole in a broken world.

About the Author
Julie Gariss and her husband, Randy, worked with the College Heights Christian Church in Joplin, Missouri for more than 30 years. Julie is a popular speaker and she teaches women's Bible studies and Sunday school. Her passion for teaching the Word of God has taken her all over the United States speaking at women's retreats, conventions and banquets, as well as teaching, counseling and encouraging at numerous mission locations around the world. Julie and Randy currently serve as of Directors of the Life and Ministry Preparation Center at Ozark Christian College.
---
We Also Recommend