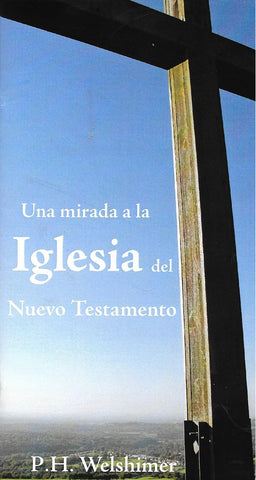 Una mirada a la Iglesia del NT por PH Welshimer (Facts Concerning the NT Church) - FREE
A veces personas preguntan de que denominación son ustedes. Si fuéramos bautistas, luteranos, presbiteranos o metodistas, la respuesta sería breve y satisfactoria. Un predicador del siglo veinte escribió este librito para contestar la pregunta. Nuestro movimiento intenta guiar a todos los hermanos a ser nada más ni nada menos que discípulos de Cristo, hijos de Dios. Queremos ser hermanos de todos que sigan a Cristo, no condenado, sino animando a todos a ser fieles a la Biblia.
Gratis: Reciba una copia gratis al pedirla junto con su pedido de libros.
19 páginas
FREE (with Shipping)
ISBN: 978-1-930992-21-4
WEB: 2214
Facts Concerning the NT Church by PH Welshimer (Una mirada a la Iglesia del NT)
Sometimes someone asks to which denomination do you belong. If we were Baptists, Lutherans, Presbyterians or Methodists, it would be a brief and satisfying answer. Popular preacher P.H. Welshimer, from the twentieth century, wrote this booklet to answer that question. Our movement attempts to guide all bretheren to be nothing more or less than disciples of Christ, sons and daughters of God. We want to be brothers and sisters to all who follow Christ, not condemning other, instead encouraging everyone to be faithful to the Bible.
Free: Receive a free copy when you request one with your order of other books, or Limit 20 per customer if ordering them by themselves.
FREE (with Shipping)
ISBN: 978-1-930992-21-4
WEB: 2214
---
We Also Recommend