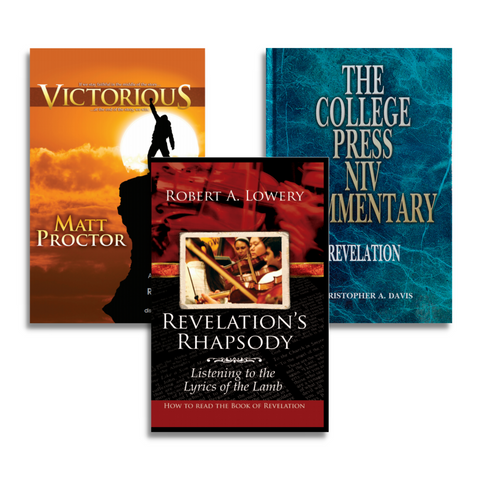 Revelation Study Set
Overview
For many of us, the book of Revelation is a tough one to study. It's sometimes hard to tell between what's real, what's symbolic, and what lessons from Revelation actually apply to our lives today. 

God put the book of Revelation in the Bible for a reason, and He wants us to understand its message. With the Revelation Study Set, you'll be able to do a deeper study into the book of Revelation and the message God wants to convey to His followers.

You'll have detailed commentary on each of the verses, you'll see how Revelation is intertwined with the rest of Scripture, and you'll uncover a wealth of meaning and application for your daily life.

Don't let the book of Revelation scare you anymore. Begin studying it and discovering the timeless message that God has for you.

Revelation's Rhapsody
Although the book of Revelation is longer than twenty other New Testament books and comprises six percent of the entire New Testament, it is no doubt the least one read, understood, and applied. But that can change because Robert Lowery brings to today's readers the interpretative principles used by the first readers. In doing so, Christians in every century and culture can read Revelation with clarity instead of confusion.
Victorious
Despite popular opinion, Revelation is not an end-times mystery to be solved. It's a hard-times message to be embraced. Written to struggling churches, the book proclaims a powerful word of hope: at the end of the story, we win.

In this devotional study, Matt Proctor will uncover the major themes of Revelation. Discussion questions, an applicational focus, and a readable style all combine to make this a helpful guide for personal reading or group study.
College Press NIV Commentary - Revelation
By calling his work "The Revelation of Jesus Christ," John shows that his purpose is not to conceal but to reveal. Dr. Davis's clear, well-organized, historically and biblically based explanation of Revelation makes this difficult book accessible to general readers.

The commentary was written for the general reader of the Bible who desires to understand Revelation as John intended it to be understood. In providing a clear, nontechnical exposition of Revelation, Dr. Davis draws on his years of experience in teaching the book to teens and adults in college and church settings.
---
We Also Recommend