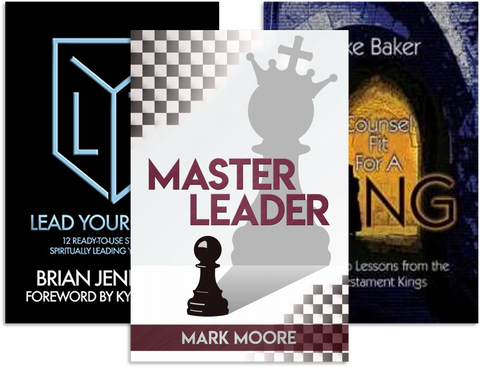 Personal Leadership Study Set
Overview
All of us are called to be leaders in our family, work places, church, and community. It is not hard to find self-help leadership books; the choices are overwhelming.

However, we know that the only leadership guide worth following is the Bible. That's why College Press wants to put resources about Biblical leadership into your hands to help you fulfill your calling as a leader.

By studying the life of Jesus and other leaders in the Bible, you'll learn from their example and follow in their footsteps to become a better leader yourself.

Use these books to guide your Biblical studies of leadership and to help you grow as a leader.

Master Leader
This is a compelling study of Jesus and his exemplary servant-leadership. Dr. Mark Moore presents six Master Leader attributes: Identity, Vision, Mission, Values, Strategy, and Habits. Woven throughout these six chapters are 15 Master Leader Principles. With practical application in each chapter, this study is ideal for both personal growth and for small groups.
About the Author
Dr. Mark Moore serves as Teaching Pastor at Christ's Church of the Valley (CCV) in Peoria, AZ. Prior to joining CCV, Mark served as a Professor at Ozark Christian College in Joplin, Missouri (1990-2012). He is also a professor for Ozark, an Adjunct Professor at Hope International University in Fullerton, California and Haus Edelweiss, Vienna, Austria.

A 1986 Graduate of Ozark, Mark earned his Ph.D. from the University of Wales in 2008. He is the author and co-author of many books, mostly on the Life of Christ, the book of Acts, and Revelation.
Counsel Fit for a King: Leadership Lessons from the Old Testament
Mike Baker has offered his observations of the Old Testament kings through the lens of leadership. This easy read examines the leadership of Israel's kings good and bad, obedient and sinful, some we can look up to, others to learn from their mistakes, but within every example you can see God's glory and ultimate purpose. Open the Old Testament and receive counsel from the kings!
About the Author
Mike Baker currently is the associate pastor at Eastview Christian Church in Normal, Illinois. He has been married to his wife Sara since 1986, and they have two boys, Michael and Caleb. Mike graduated from Johnson Bible College in 1987 with a degree in preaching. He is the author of How Teens Do Church and loves preaching, sports, and hanging out with friends.
Lead Your Family
Leading a family in today's culture can be challenging and seems overwhelming. Where do I start? What can I do? Brian Jennings offers helpful advice and practical ideas for parents who seek to lead their families in living for Christ. This short, easy to read resource is full of ideas and encouragement to help parents find meaningful family experiences that help their children live spiritually vibrant lives. Lead Your Family is a must-have resource for any spiritually minded parent.
About the Author
Brian has served at Highland Park Christian Church ever since graduating with a Bachelors of Theology from Ozark Christian College in 1998. He also serves on the Board of Trustees for Blackbox International, which provides care for boys who are victims of sex trafficking.

Brian enjoys long dates with his wife Beth, writing, tennis, family bicycle rides, and out hustling young guys on the basketball court. You can read his blog at brianjenningsblog.com.
---
We Also Recommend