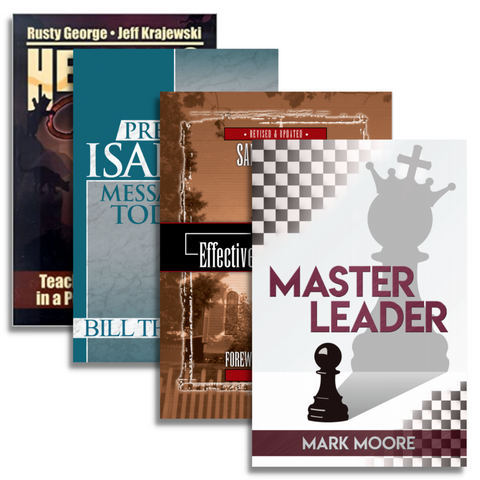 Ministry Leadership Study Set
Systems-Sensitive Leadership is out of stock. If you buy the Ministry Leadership Study Set, you will get a copy of Preaching Isaiah's Message Today instead. See below. 
Overview
Leadership principles can seem simple at first, but when it comes to leading a church or ministry, we know leadership is actually much more complicated. Ministry leadership often leaves us wrestling with how to:

Resolve Conflict
Handle Diversity
Communicate with Multiple Generations
Manage Others' Expectations
With Jesus as your example and the Bible as your ultimate authority, use the books below to strengthen your skills as a leader and navigate the complexities of ministry leadership.

Master Leader
This is a compelling study of Jesus and his exemplary servant-leadership. Dr. Mark Moore presents six Master Leader attributes: Identity, Vision, Mission, Values, Strategy, and Habits. Woven throughout these six chapters are 15 Master Leader Principles. With practical application in each chapter, this study is ideal for both personal growth and for small groups.
About the Author
Dr. Mark Moore serves as Teaching Pastor at Christ's Church of the Valley (CCV) in Peoria, AZ. Prior to joining CCV, Mark served as a Professor at Ozark Christian College in Joplin, Missouri (1990-2012). He is also a professor for Ozark, an Adjunct Professor at Hope International University in Fullerton, California and Haus Edelweiss, Vienna, Austria.

A 1986 Graduate of Ozark, Mark earned his Ph.D. from the University of Wales in 2008. He is the author and co-author of many books, mostly on the Life of Christ, the book of Acts, and Revelation.
How to Be an Effective Church Leader
In this book, Sam Stone lays the foundation for effective leadership by combining principles taken straight from Scripture with practical advice from life experience. He reminds us that churches can only do their best work when excellent leadership is present.
If you are considering a church leadership position, or even if you are a veteran leader, Sam Stone's timeless advice will provide you with insight and encouragement.
About the Author
Sam E. Stone's lifetime of leadership includes more than twenty years in the preaching ministry, service as an elder, and a career as editor of Christian Standard. President of the 1997 North American Christian Convention, he is the author of two previous books, Grounded Faith for Growing Christians and The Christian Minister.
Herding Cats
What could be harder than herding cats? Is it even possible to get such independently minded creatures all heading in the same direction?
To church leaders dealing with the postmodern mindset of the so-called Generation X and Generation Y, cats might seem well behaved and highly trainable by comparison. Rusty George and Jeff Krajewski write from experience in suggesting ways to achieve the impossible. Just as cats will do what you want them to if they are sufficiently motivated, there are ways to help postmoderns decide to follow and serve the Lord.
Rusty and Jeff tag-team a thorough examination of the problem and suggested solutions, and have also enlisted the help of others in providing case studies in the last two chapters of workable ministries for postmodern "cats."
About the Authors
Jeff Krajewski currently serves with the Common Ground Christian Church in Indianapolis, Indiana. Previously he served as Minister of Young Adults with the Trader's Point Christian Church in Indianapolis. Jeff graduated from Cincinnati Bible College and Seminary with a Bachelor of Science degree in Christian Ministries. He is married to Nicole and they have two adorable children, Tucker and Kezley. Jeff loves to spend time with his family and play golf whenever possible.


Rusty George serves the Southland Christian Church in Lexington, Kentucky, working with the weekend postmodern-targeted worship service. Rusty graduated from Ozark Christian College in Joplin, Missouri, with a Bachelors of Theology and Bachelor's of Sacred Literature degrees. he is completing his Master's degree in Theology with Cincinnati Bible College and Seminary. Rusty is married to Lorrie and they live in the Lexington area. He is passionate about basketball, not entirely due to his current location.
Systems-Sensitive Leadership (OUT OF STOCK, NOT INCLUDED)
Systems-Sensitive Leadership is out of stock. If you buy the Ministry Leadership Study Set, you will get a copy of Preaching Isaiah's Message Today instead. 
Preaching Isaiah's Message Today 
The power of Isaiah is certainly needed in today's world. In this excellent work you will find Thompson presenting Isaiah's message in a meaningful and thoughtful manner. The author is both a careful scholar and an articulate practitioner. His deep commitment to Biblical preaching is readily apparent.

In Preaching Isaiah's Message Today you will find helpful exposition of important prophetic texts, a concise discussion of the challenges found in the book of Isaiah, and practical helps for preaching and teaching Isaiah.
About the Author
Bill Thompson is a retired senior minister and an adjunct professor for Ohio Christian University. He received his MDiv degree from Cincinnati Christian University, his ThM degree from Southern Baptist Theological Seminary, and his DMin degree from Asbury Theological Seminary.
---
We Also Recommend