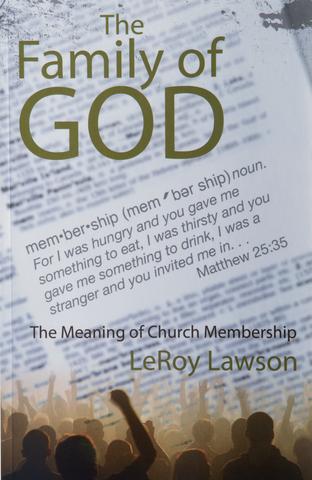 Family of God
Overview
The Family of God is a very popular study (now in its ninth printing) that discusses the nature and purpose of 'church membership,' and just what it means to belong to the kingdom of God here on earth. Presented in a warmly conversational manner, readers (and small group participants) are invited to look at what the New Testament teaches concerning local congregations and how they are meant to function.

The Family of God is an ideal brief study to give to a new believer or someone that is unfamiliar with what we call 'The Restoration Movement.' It is designed to be an introduction to important principles and points of understanding that are unique to what we would call 'Christian Churches' and Churches of Christ.' An entire chapter devotes itself specifically to a review of the historical roots of this movement of churches and the guiding historical precedents that have long characterized churches that wish to be 'not the only Christians, but Christians only.'

Family of God has 7 chapters and 64 pages.


ISBN 978-0-89900-703-8
WEB-703
Book Features
Ideal for small group study
Easy-to follow chapter structure
Adaptable for a weekly study over a period of two months
7 easily readable, well-connected chapters
Study questions to explore chapter topics more deeply
Important chapter on the history of Restoration Movement churches
Discussion of offerings, giving and tithing
Special Bulk Pricing

Ordering more than 10 copies of this book?

Contact us for special pricing on bulk orders.
417.623.6280
collpressjoplin@gmail.com
Excerpt
"Through the church! The church is the instrument through which God has chosen to do His work on earth during the time of Christ's physical absence between His first and second coming. The church is Christ's body on earth now to complete the work He began in His physical body. The church is God's messenger on earth to spread the gospel of Christ.

But in these times we are encountering much 'antichurch' thinking. Many people who claim to be Christians want little or nothing to do with the church. Many think in terms of a 'just Jesus and me' relationship which excludes the church. Others see 'organized religion' of any kind as being evil. Still others, especially some current-day prophecy teachers, see the church only as some sort of 'emergency measure' which God put into effect until He can put His true kingdom — the millennium — into effect.

But none of these views are correct. The church is very important. It is God's Kingdom on earth now, and we need to be active participants in it. This study will help us to understand the importance and meaning of church membership."

About the Author
Dr. LeRoy Lawson is a pastor and author originally from Tillamook, Oregon. He has served as President of Hope International University in Fullerton, California, as senior minister of Central Christian Church in Mesa, Arizona, and as Professor of Christian Ministries at Emmanuel Christian Seminary in Johnson City, Tennessee. Dr. Lawson continues his speaking schedule even as he and his wife Joy have been traveling and enjoying semi-retirement in recent years.
---
We Also Recommend