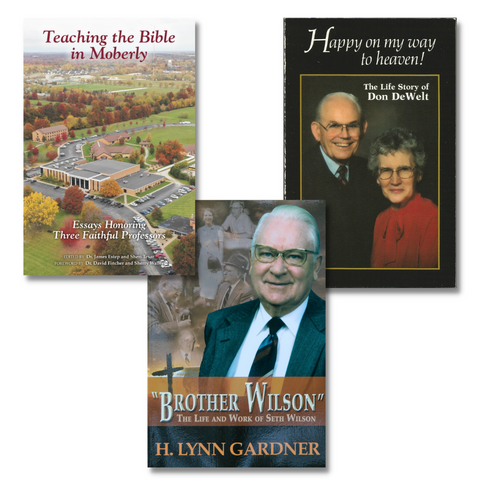 Faith Leader Biography Set
Overview
In times of discouragement, take comfort from fellow Christ-followers who have walked the challenging path of life and stayed faithful to Jesus.

This collection of biographies and essays features 5 Christian leaders whose lives will give you reassurance and a boost of encouragement to stay the course in following Jesus. You won't regret adding this inspiring book collection to your reading collection.
Teaching the Bible in Moberly: Essays Honoring Three Faithful Professors
Dr. James Estep and Sheri Tesar
This book is a series of essays dedicated to Lloyd Pelfrey, Gareth Reese and Richard Koffarnus, long time professors at Central Christian College of the Bible in Moberly, Missouri. The essays are written by their colleagues and past students.

Each essay covers a topic of scholarly or contemporary interest in the fields of Bible, Old Testament, New Testament, Theology, or Practical Ministry. These fields of discipline reflect the continuing contributions that each of the three men who are being honored by this book.

Brother Wilson: The Life and Work of Seth Wilson
Lynn Gardner

"Someone said books are the shoes with which we walk in the footsteps of great minds. This book takes you inside the mind of one of the Restoration Movement's most influential thought leaders. For over half a century, Seth Wilson was the heart and soul of Ozark Christian College, and his impassioned teaching left an indelible mark on thousands of Christian leaders.

Thanks are due to Lynn Gardner for allowing us to hear, often in Seth's own words, those convictions which animated him and influenced so many others. Of course, those familiar with him knew that the mind of Seth was constantly fixed on the mind of Christ. If you're like me, reading this book will inspire you to walk more closely in His footsteps." - Matt Proctor, President of Ozark Christian College

Happy on My Way to Heaven!
Don DeWelt

This is an autobiography of Don DeWelt.

He was an author, speaker, professor of Bible and homiletics, founder of College Press Publishing Company, and a leader in a unity movement within the Restoration Movement, a network of thousands of American churches.

This autobiography is written in a distinct and unique style that is both encouraging and humble in spirit. Enjoy learning from the life of a remarkable, faithful, and passionate leader in God's kingdom.

---
We Also Recommend