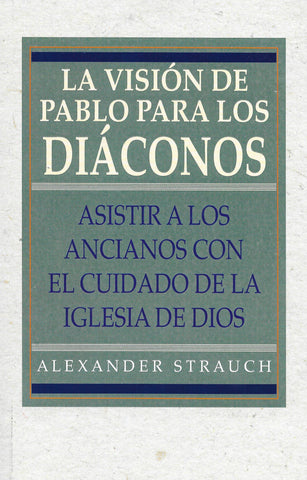 La visión de pablo para los diáconos por Alexander Strauch (Paul's Vision for the Deacons)
Strauch nos lleva a apreciar las labores de estos siervos valiosos de la iglesia.
Los diáconos, tal como el Nuevo Testamento lo enseña, deben estar involucrados en un ministerio compasivo, cuidando del pobre y del necesitado.
Los cristianos debemos entender la importancia vital de los diáconos, con el fin de que aquellos que en nuestras iglesias padecen necesidades o sufren, sean atendidos de una manera totalmente bíblica.
Una iglesia neotestamentaria no puede eludir su responsabiliad de reconocer a quienes han sido capacitados para cumplir con este ministerio de misericordia.
188 páginas
Retail: $11.00
Sale: $8.80
WEB: L015
Paul's Vision for the Deacons by Alexander Strauch (La visión de pablo para los diáconos)
Strauch leads us to appreciate the labors of these valuable church servants.
The deacons, as the New Testament teaches us, are to be involved in a compassionate ministry, taking care of the poor and the needy.
We Christians should understand how vitally important the deacons are, relating to those in our churches that have needs or are suffering and need to be taken care of in a Biblical way.
The New Testament church cannot avoid its responsibility to recognize those who are capable of doing this ministry of compassion.
188 pages
Retail: $11.00
Sale: $8.80
WEB: L015
---
We Also Recommend