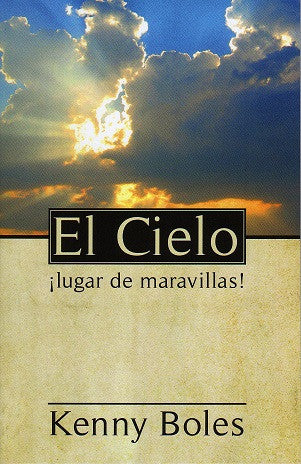 El Cielo ¡lugar de maravillas! (Heaven, What a Wonderful Place!) por Kenny Boles
Overview
Kenny Boles estudió el destino final del pueblo de Dios. Y luego escribió sus pensamientos. Como profesor en la Universidad Bíblica Ozark 
(Ozark Christian College) que enseña el griego bíblico por más de 30 
años, él es un maestro preciso. Como hombre quien razona y tiene una imaginación santificada, es un maestro que inspira. Como predicador experimentado, es uno que anuncia buenas nuevas y espera que sus oyentes se comprometan con el Señor. Vea usted que la eternidad de los hijos de Dios no será aburrida—¡de ninguna manera!
8 lecciones con preguntas para grupos pequeños.
ISBN: 978-1-930992-11-5 

Heaven has 8 chapters and 69 pages.
ISBN 978-0-89900-830-1
WEB-830
FEATURES
This book is organized into eight logical chapters that are perfectly set up for small group discussion. Chapter topics include:
Does Heaven exist?
Who Will Be in Heaven?
Will We Have Real Bodies and Walk on Real Streets of Gold?
Will Our Bodies Have All Five Senses?
What Will Not Be in Heaven?
What Will Do with All That Time?
Will God Still Be Invisible?
When Does It All Begin?
Each chapter includes between six and nine discussion questions to facilitate small group interaction and suggestions of other Scriptures for pursuing further the subject at hand.
About the Author

Kenny Boles is teaching as an adjunct professor after 35 years in the classroom teaching Greek and New Testament at Ozark Christian College in Joplin, Missouri. He has written four other books for College Press.
A popular writer and speaker, Kenny is a graduate of Ozark Christian College and Abilene Christian University. He has held located ministries in Tyro, Kansas and Abilene, Texas.
Kenny's wife, Linda, is also a graduate from Ozark Christian College. Kenny and Linda have two children: Leigh Ann Johnson, whose husband Jeff is a youth minister in Kansas City; and Eric Boles, a graduate of OCC and Yale Divinity School. Their first grandchild, Sydney Grace Johnson, was born in July, 1998.
---
We Also Recommend