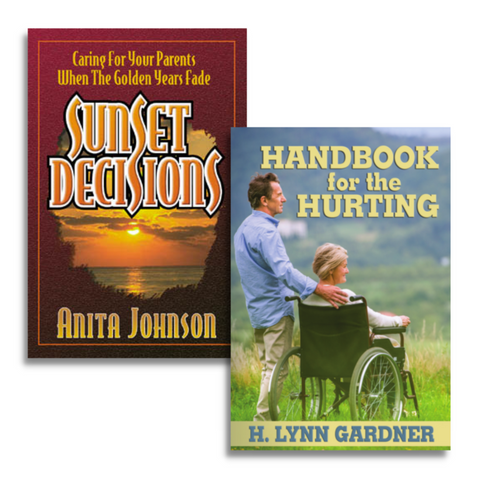 Caregiver Resource Set
Overview
This collection of books is designed to help caregivers navigate their important role. These books combine the practical and spiritual aspects of caregiving so that caregivers can have a sense of clarity and guidance as they fulfill their responsibilities.
While there is no one-size-fits-all solution for the challenges that caregivers face, these books will ask you the right questions so that you can make the best caregiving decisions to fit your specific situation.
Sunset Decisions
Sunset Decisions is a self-help manual of hope and encouragement. The author wants to help you design an elder care package that revitalizes the family, strengthens those involved spiritually, and builds lasting memories and relationships. This book deals with:


Losing a parent and decisions surrounding the survivor
Finding affordable elder care you can live with
Deciding when it is right to leave a parent at home
Determining when it is time to move a parent into your home or a care facility
Helping the family survive loss and tough decisions
Sunset Decisions is a Christian resource that will help change quick care into quality care. Reading this book will provide you with the valuable support you need.
Handbook for the Hurting
A Resource for Helpers and the Hurting:


What should we say and not say to help the hurting?
How can I cope with chronic illness?
How can I rejoice in my trials?
How can music contribute to healing?
How do sufferers respond to God and to doubt?
What benefits can we find in pain and suffering?

Reading Handbook for the Hurting will give you practical help as you seek to answer these questions.

Buy this book individually.
---
We Also Recommend