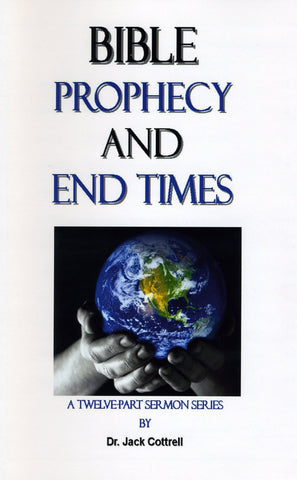 Bible Prophecy and End Times - CD
Overview
Listen along to Dr. Jack Cottrell's twelve-part sermon series about Bible prophecy and End Times.
This audio book will be provided to you on a CD that you can listen to as you study along in the Scriptures. Let this resource grow your understanding about these important biblical topics.
Vol 1, Sermons 1-6
The Four Heavens
The Kingdom of God has come
The Millennium is now!
Israel in Prophecy
Are We Headin' for Armageddon?
The second coming of Christ
Vol 2, Sermons 7-12
The Other Side of Death
The Resurrection from the Dead
What Is the Rapture?
The Final Judgment
What About Hell?
What About Heaven?
WEB-100CD
Other Books by This Author

Bible Prophecy and End Times CD
Bible Prophecy and End Times MP3
Headship, Submission, & The Bible: Gender Roles in the Home
What The Bible Says About God The Creator, Ruler, Redeemer: God Most High
What The Bible Says About The Holy Spirit: Power From On High
Bautismo: Un estudio bíblico (Baptism: A Biblical Study)
La fe una vez dada (The Faith Once for All)
Los fundamentos de la fe (Faith's Fundamentals)
Ser tan bueno no es tan bueno (13 Lessons on Grace)
About the Author
Dr. Jack Cottrell is Professor of Theology at Cincinnati Christian University. He received his BA, ThB, Cincinnati Bible College & University; BA, University of Cincinnati; MDiv, Westminister Theological Seminary; PhD, Princeton Theological.
---
We Also Recommend