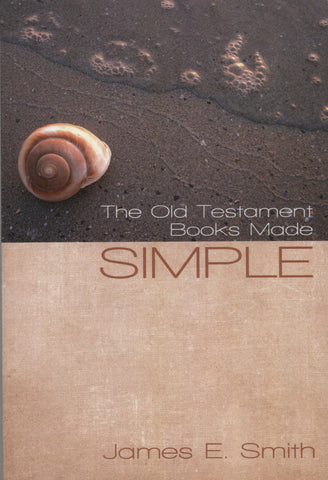 The Old Testament Books Made Simple
Overview
Since the Old Testament (OT) is the foundation of the New Testament, understanding the OT is crucial. In this second installment of the Made Simple Series, Doc Smith has given us a quick and easy guide to the Old Testament.

The structure of the chapters in this book is derived from the account of the call of Samuel. The Lord called to Samuel three times in the night, and Eli instructed Samuel to respond with these words: Speak, LORD, for your servant hears (1 Sam 3:9).

The letters of the word SPEAKS are used to outline the discussion of each Old Testament Book.


Situation: The background of the book is set forth
Plan: Discussion of book organization
Eternal Purpose: The immediate and ultimate purposes for each book
Anticipation: How each book anticipates the coming of Christ
Keys: The key chapter, verse, phrases, and words in the book are identified.
Special Features: This suggests a list of oddities, peculiarities, or facts that point to the uniqueness of each book.

The Old Testament Books Made Simple contains 14 chapters and 237 pages.
ISBN 978-0-89900-991-9
WEB-991

Special Bulk Pricing

Ordering more than 10 copies of this book?

Contact us for special pricing on bulk orders.
417.623.6280
collpressjoplin@gmail.com
About the Author
James E. Smith received his undergraduate and seminary training at Cincinnati Bible Seminary. He was awarded the PhD degree by Hebrew Union College-Jewish Institute of Religion. "Doc" Smith has serve congregations in Ohio and Kentucky. For thirteen years he was Professor of Old Testament at Cincinnati Bible Seminary. He currently serves with distinction on the faculty of Florida Christian College.
---
We Also Recommend