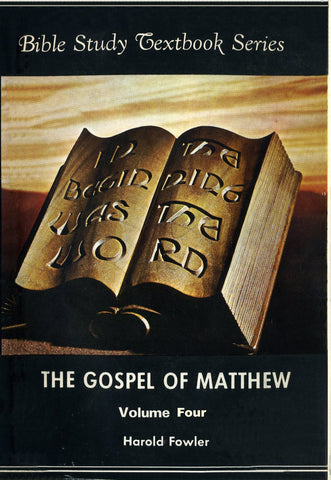 Matthew Volume 4 (Bible Textbook Series)
Matthew Volume 4 was the final book to come out of the College Press Bible Textbook Series (sometimes called the Green Textbook Series).
Coming in at just under 1,000 pages in a study of Matthew chapters 21-28, it completed Harold Fowler's four-volume set on Matthew's Gospel that took almost 20 years to write.
Seth Wilson considered this the best and most complete commentary available on Matthew. Many people had the first three volumes but never found the fourth. Here is the opportunity to collect volume four at a rock-bottom price! There are no dust jackets for Matthew Volume 4.
Matthew Volume 4 has 991 pages and covers chapters Matthew 21-28.
ISBN 0-89900-032-0
WEB-032
About the Author:
Harold Fowler is a life-long missionary to Italy. He began writing his commentary on Matthew in the mid-1960's. This final volume was first published in 1984. 
---
We Also Recommend