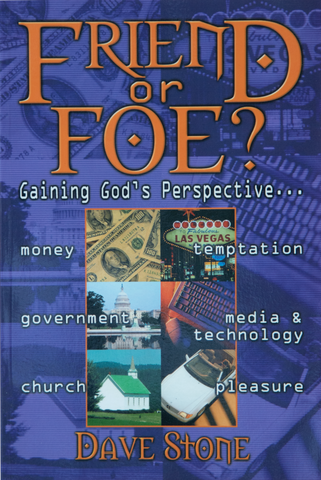 Friend Or Foe
Buy this book and get another copy free from July 30 - August 2, 2023.
Overview
Have you ever injured yourself with something designed to actually help you? It can range from something as irritating as a paper cut from an envelope to something life threatening. It isn't that the product itself is dangerous; it just happens that the way we utilize it may end up hurting us. There are so many areas of life that, for the Christian, have the potential of being a great help or a dangerous threat.

Dave Stone helps us understand that these issues and circumstances can be either helpful of hurtful to our walk of faith, depending on how we approach them. Tackling such issues as money, government, church, temptation, media and technology, and pleasure, Stone helps us to see that we can find God's intention in these tough areas of our lives.

If you have struggled to walk faithfully in any of these areas in your life, then you will greatly benefit by reading this book. With his creative, easy-to-read style, Stone will help you understand how your perspective can help you live a life that honors God in the face of challenging issues.

Friend or Foe? has 7 chapters and 124 pages

ISBN 978-0-89900-867-4

WEB-867



About the Author

Dave Stone is the Preaching Minister with Southeast Christian Church in Louisville, Kentucky which is one of the fastest growing churches in America. His sermons are distributed across the country through the Living Word ministry. His writings are guaranteed to touch both your heart and your funny bone.
---
We Also Recommend