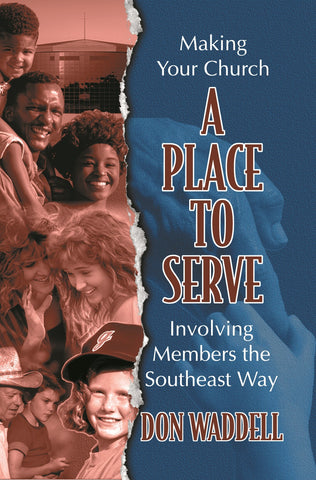 Making Your Church a Place to Serve
Overview
The statistics are staggering. Thom Rainer in his book High Expectations found that if members of a church only attend worship services, only 16% will still be attending in five years. If however they become an active part of a Sunday School, that percentage goes up to 83%.
Southeast Christian Church does not claim to have all the answers, and this is not a magic book of formulas, plans, programs, or gimmicks. Rather it defines a process toward inviting people to an intimate relationship with God.
Don Waddell's book Making Your Church a Place to Serve describes the process of fully assimilating new members into your congregation so they become contributing members instead of spectators.
Making Your Church A Place to Serve has 16 chapters and 160 pages.
ISBN 978-0-89900-870-7
WEB-870
About the Author
Don Waddell is Involvement Minister at Southeast Christian Church, one of the largest and fastest growing churches in America today. In this position he is responsible for assimilating and involving the approximately 2,000 new members who join Southeast each year. Before joining Southeast, Don was a colonel in the United States Air Force where he served as a fighter pilot, base commander, and Professor of Leadership Studies. Don is a charter member of Southeast who has served as a Sunday School teacher, elder, and Chairman of the Board at many churches in the United States and abroad. He is married to the former Nancy Smith from Boston, Kentucky, and they have three children.
---
We Also Recommend