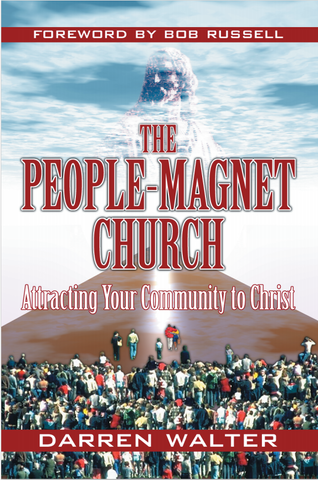 People Magnet Church
Overview
Extremely practical and easy to read, Darren Walter offers a multitude of suggestions on making a church a people magnet.
Walter calls us to lift up the cross in the lost world and watch as people are drawn to the magnetic love, truth, and grace of Jesus Christ. The message the church carries will forever remain unchanged, while our method in presenting this good news must adapt to fit the current culture. These two combine to form the mission of any church that is committed to becoming a people magnet in its world.
By being intentional about the type of church we want to be, we will communicate to the world around us that we are passionate about the God we serve. In turn, God himself will draw people to His church. Becoming a people-magnet church does not sacrifice the integrity of the church or its message; rather it allows us to become more like our Savior who was and is the ultimate people magnet.
Endorsements
"Darren is a gifted communicator. I couldn't put the book down." -Keith P. Keeran, Ph.D., President, Kentucky Christian College
"The People-Magnet Church is a must-read for any ministry that wishes to improve their way of reaching others for Christ. Darren Walter shares practical ideas to exceed your guests' expectations and prove that you are interested in them from the minute they choose to walk through the door. " - Bob Russell, Retired Senior Minister, Southeast Christian Church
Click here for the Table of Contents.
People Magnet Church has 10 chapters and 125 pages.
ISBN 978-0-89900-872-0
WEB-872
About the Author
Darren Walter is currently the Guest Services Minister at Southeast Christian Church in Louisville, Kentucky. Southeast averages over 14,000 in attendance each weekend and continues to grow with God's blessing. The Guest Services Ministry is made up of more than 1,400 volunteers actively serving in the Greeter, Usher, Communion Preparation and Serving, Section Host, Welcome Center, Tour Guide and Guest Reception Ministries.
Darren holds a Bachelor of Arts degree in Bible and Ministry with an emphasis in preaching from Kentucky Christian College, where he and his wife Amanda met. In additional to his ministry at Southeast, Darren enjoys presenting seminars and training sessions at churches around the country, on various subjects including becoming a visitor-friendly church. Amanda's ministry, Dramatically Different, brings a unique touch to church programs using her talents in drama and music, specializing in women's events. For more information on either of these ministries check out Darren & Amanda's websites:
www.dramaticallydifferent.com and www.magnetministries.com.
In addition to The People-Magnet Church Darren has authored articles for Christian publications and coauthored a book with his close friend Scott Tucker entitled Follow Me Again.
---
We Also Recommend