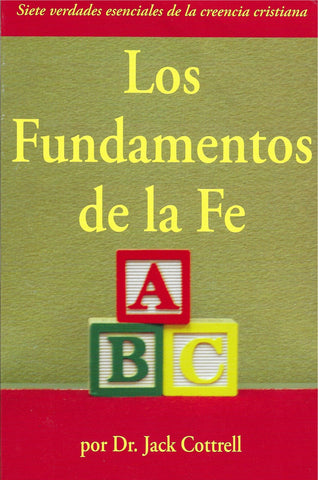 Los fundamentos de la fe por Jack Cottrell (Faith's Fundamentals)
En un mundo donde la verdad tiene poca importancia, descubra lo que Dios dice en cuanto a siete doctrinas fundamentales--
La verdad misma es fundamental
Dios es real
La Biblia es la Palabra de Dios
Jesús es nuestro Salvador
Jesús es el Hijo de Dios
Somos salvos por la gracia, a través de la fe, al ser bautizados
Jesús viene otra vez
En una cultura que hace hincapié en lo emocional antes que en la verdad, considera lo que dice Dios en cuanto a los requisitos de la fe -- y el por qué.
Son siete capítulos sencillos que explican los principios fundamentales en lenguaje claro. Este libro es perfecto para estudios en grupo como para el enriquecimiento personal también.
144 páginas
Retail: $12.00
Sale: $9.60
ISBN: 978-0-979990-61-8
WEB: FundFe
Faith's Fundamentals by Jack Cottrell (Los fundamentos de la fe)
In a world where the truth is of little importance, discover what God says about seven fundamental doctrines --
The truth is fundamental
God is real
The Bible is the Word of God
Jesus is our Savior
Jesus is the Son of God
We are saved by grace, through faith, when we are baptized
Jesus is coming again
In a culture that emphasizes emotion more than truth, consider what God says about faith's requirements - and why.
There are seven simple chapters that explain the fundamental principles in clear, everyday language. This book is perfect for group studies, as well as for personal enrichment.
144 pages
Retail: $12.00
Sale: $9.60
ISBN: 978-0-979990-61-8
WEB: FundFe
---
We Also Recommend