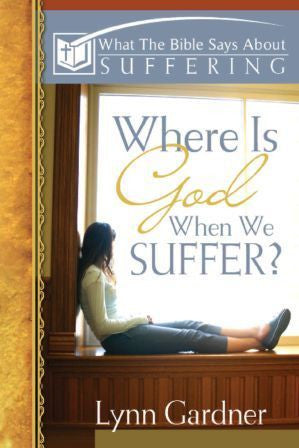 What The Bible Says About Suffering: Where is God When We Suffer?
Overview

This book provides a valuable overview of the biblical teaching on suffering, but it does much more. It is filled with practical counsel, drawn both from the teaching of Scripture and a lifetime of ministry. 
Where is God When We Suffer? addresses the topic from various perspectives. It begins with Lynn Gardner's own personal story of loss and suffering. Dr. Gardner then guides us through a study of both Old and New Testament examples of people who suffered. Why did they? How did they deal with it? What can we learn from their experiences? The book also includes a philosophical discussion of evil and suffering for those who want an analysis of this difficult topic from a biblical perspective. How can an all-powerful, all-loving God permit such pain and tragedy in the world He created?
This book also lists scriptural principles that offer help and hope for those going through hard times and for the family and friends trying to help them.
Always the author points us back to what the Bible itself says about suffering. And in the end, that's the best place anyone can go. (Taken from the Foreword by Sam Stone.)
What The Bible Says About Suffering: Where is God When We Suffer? has 21 chapters and 381 pages.
ISBN 978-0-89900-719-9
WEB-719
About the Author
Lynn Gardner taught in Bible Colleges for 40 years, teaching primarily in the New Testament and Apologetics areas. He served as the Academic Dean of Ozark Christian College from 1981 through 1998. Dr. Gardner earned a BTh from Ozark Christian College, a BA from California State College, an MA from Wheaton Graduate School and earned his EdD from the University of Arkansas.
---
We Also Recommend