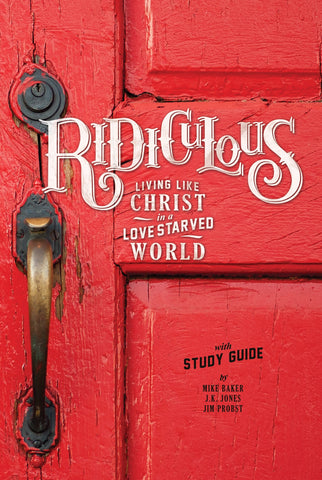 Ridiculous - Living Like Christ in a Love Starved World
Overview

In the early days of Christianity, Christ's love was ridiculed instead of received; threatened instead of embraced. Every attempt was made to dispose of the love of Jesus and his church. 
By God's design, the church is the instrument of God's "ridiculous" and unconditional love. Just as the church seems to be outdated and irrelevant, it is positioned perfectly to express love that the world finds irresistible.
Ridiculous: Living Like Christ in a Love Starved World is a 6 week study on love as revealed in the Bible. 

Week 1:  Before We Blew It (What is God really like?)
Week 2:  Behind Closed Doors (Is it possible to love my family the way God loves me?)
Week 3:  Between the Pews (How do I love an imperfect church?)
Week 4:  Beyond the Borders (How do we love those who hate us?)
Week 5:  Below the Streets (Why does the Bible tell me not to love the world?
Week 6:  Beneath the Cross (What's the big deal about the cross?)
A study guide is included in the back of the book.
ISBN 978-0-89900-070-1
WEB-070
Special Bulk Pricing
Ordering more than 10 copies of this book?

Contact us for special pricing on bulk orders.
417.623.6280
collpressjoplin@gmail.com
Excerpt
"Ridiculous Love. Literally love that is ridiculed—a love that doesn't make sense—a love that can't be explained. This kind of love broke into human existence in the first century through a man named Jesus and the church He established. This love was unlike any before it and unlike anything in the culture it collided with. This new kind of love toppled racial walls, questioned gender inequities, challenged social segregation, and changed the definition of love forever.
Amazingly it was ridiculed instead of received. It was challenged as abnormal. It was threatened instead of embraced. Those espousing this love were killed in order to silence it. Every attempt was made to dispose of the love of Jesus and his church. And yet, the Roman Empire couldn't contain it. Armies couldn't defeat it. World leaders couldn't ignore it. The death of a thousand martyrs couldn't quiet it. And the pagan world couldn't compete with it.

Why? Because as ridiculous as this unconditional love seemed, it was exactly what the world longed for. This love that selflessly sacrificed. This love that served for nothing in return. This love that died for others. This love that had no requirements, conditions, or stipulations. This love that gave without taking. This love that came from God. This love expressed in Jesus' death, burial and resurrection. This love—this ridiculous love is still what the world longs for." (p. 8)




Authors
Mike Baker, JK Jones, Jim Probst
---
We Also Recommend