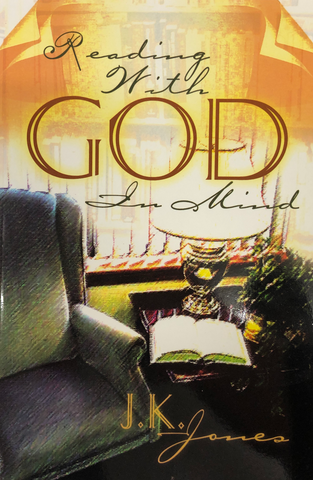 Reading With God in Mind
What kind of reader do you want to be? What books and authors have cultivated your inner life? J.K. Jones, in this new resource, helps you to make the most of your reading time. God is everywhere especially in things you read. This resource will assist you in finding God in all things. Books are my wilderness. I go out to explore them slowly, carefully with God in mind, and am finding out that my going out is really my going in?
"My dear friend, J.K. Jones, does everything with God in mind-preaching, teaching, grading papers, playing ball, watching TV, waxing his car, riding his motorcycle, and polishing his shoes. One of his favorite things to do though is reading. But the difference between the reading of most people and the reading of J.K. is that everything he reads he takes captive to Christ. His all-consuming question is, 'How is God speaking to me and shaping me through this work?' This motivational/devotional book is a marvelous 7-step recovery program for addicted readaholics and is a great invitation to reading wannabes. Perfect as a supplemental text for a basic class on the Christian Life." -Mark Scott, Academic Dean, Ozark Christian College
Click here for the Table of Contents.
Reading With God in Mind has 7 chapters and 78 pages.
ISBN 978-0-89900-936-0
WEB-936
About the Author:
Dr. J.K. Jones serves at Lincoln Christian College and Seminary in Lincoln, Illinois as professor of Christian Ministries and Director of Spiritual Formation. He is also the preaching minister at the Jefferson Street Christian Church in Lincoln. Finding God, Searching for God, Getting to know God, Read, reading, Resources
---
We Also Recommend