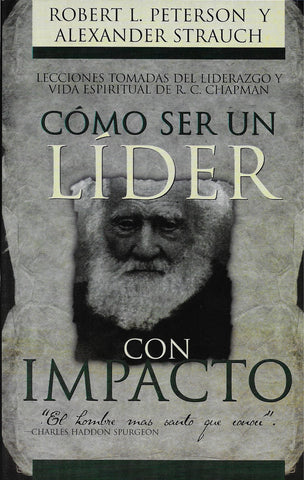 Cómo ser un líder con impacto por Robert Peterson y Alexander Strauch (Agape Leadership)
¿Quiere influenciar a otros para Dios? Aprenda del ejemplo de Robert Chapman. Él nos proporciona un ejemplo extraordinario del liderazgo cristiano piadoso. A pesar de que es tan poco conocido en la actualidad, hace dos siglos fue un líder muy respetado en Inglaterra. Fue pastor, maestro y evangelista, pero fue más conocido por su vida llena de amor, ya que puso en práctica el amor ágape.
Retail: $7.00
Sale: $5.60
ISBN: 978-968-6529-81-4
WEB: SP0062
Agape Leadership by Robert Peterson and Alexander Strauch (Cómo ser un líder con impacto) 
     Do you wish to influence others for God? Learn from the example of Robert Chapman.​ He gives us an extraordinary example of devout Christian leadership. Despite being little known today, two centuries ago he was a very respected leader in England. He was a pastor, teacher and evangelist, but also he was know for having a life filled with love. He truly put into practice Agape love.
92 pages
Retail: $7.00
Sale: $5.60
ISBN: 978-968-6529-81-4
WEB: SP0062
---
We Also Recommend