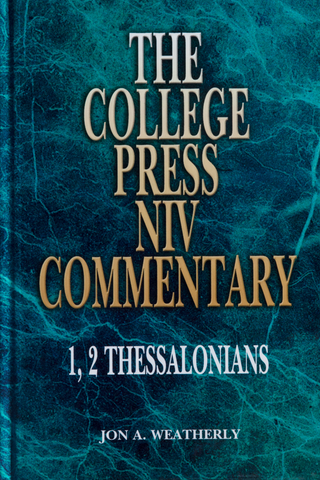 1 & 2 Timothy & Titus - NIV
College Press NIV Commentary Series
is formatted with a verse-by-verse explanation of the text. It was developed for both the scholar and the average Bible student.
The College Press NIV Commentary Series
is the only full commentary set in print from the
Restoration Movement
. Each volume (41 volumes for the Old & New Testament) contains the following helpful features:
Biblically sound exegesis
Clear exposition
Objective approach
Concise introduction
New International Version of the Bible
Key word translation
Easy to use design format
Practical footnotes
And more!
1 & 2 Timothy & Titus:
While several passages in 1 and 2 Timothy and Titus have provided the fodder for tomes of theological discussion (e.g., 1 Tim. 2:9-15 and the role of women; 1 Tim. 3:11 and deacons; 1 Tim. 3:1-8 and Titus 1:6-9 and the characteristics of those to serve as elders), the real value of these epistles lies in their message to two young ministers, to second generation believers in Ephesus and to a young church facing a pagan world in Crete. These epistles provide teaching which the church in the twentieth and twenty-first centuries needed to hear.
The two letters to Timothy and the letter to Titus stand in a very close relationship to one another. They are written to fellow workers of the Apostle Paul; they are bound together by similar content: the false teachers who bear similar situations for the churches addressed, and the same basic time-frame.
Although the term, "the Pastoral Epistles," has become a convenient designation for these three epistles which have much in common, it can be misleading. These epistles are not really a manual of pastoral theology. Only a fraction of these books contain what could be termed ecclesiastical teaching (1 Tim. 3:1-13, 5:3-22, Titus 1:5-9). The three epistles are very different. Viewed as a whole, the epistles provide insight into ministry, enduring hardship, and understanding the essentiality of good works.
1 & 2 Timothy & Titus has 264 pages.
ISBN 978-0-89900-625-3
WEB-625
1 Timothy Introduction & Outline
2 Timothy Introduction & Outline
Titus Introduction & Outline
---
About the Author:
C. Michael Moss, PhD, is associate professor of Bible and Greek, Director of Graduate Bible Studies at David Lipscomb University, and pulpit minister at Central Church of Christ in Nashville, Tennessee. Dr. Moss holds the BA from David Lipscomb University, the MA from Harding Graduate School of Religion, the MDiv and the PhD from Southern Baptist Theological Seminary. He is the author of But Lord, Sometimes I Don't Feel Saved, published by Howard Publishing. He has also written various articles published in the Restoration Quarterly.
About the Editors:
Anthony L. Ash, PhD, is professor of Biblical Studies at Abilene Christian University and minister at Minter Lane Church of Christ, Abilene, Texas. Dr. Ash holds the BS from Florida State University, the MA from Abilene Christian University, and the PhD from University of Southern California. He has authored nine books including commentaries on Luke, Acts (Chapter 1-12), Psalms (with Clyde Miller), and Jeremiah & Lamentations. He has spoken at over 400 meetings and extended lectureships and has also spoken on over 45 college and university campuses.
Jack Cottrell, PhD, is professor of Theology at Cincinnati Christian Seminary, Cincinnati, Ohio. Dr. Cottrell holds the AB from Cincinnati Bible Seminary, the AB from University of Cincinnati, the MDiv from Westminster Theological Seminary and the PhD from Princeton Theological Seminary. He has authored numerous books including God Most High: What the Bible Says About God the Creator, Ruler, Redeemer, and The Faith Once For All.
---
We Also Recommend