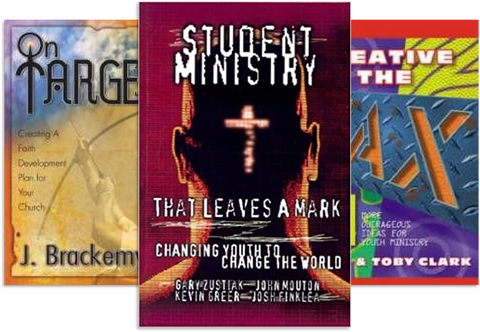 Youth Ministry Empowerment Set
Overview
Ministering to young people is an essential yet very challenging calling. Between limited time, short attention spans, and changing communication styles, youth ministry can be exhausting. However, you're not alone. Learn from experienced youth ministers who have gone before you as they help you:
Make your limited time with students count
Create a Faith Development Plan for students
Combine engaging activities with biblical truths
Reignite your passion for youth ministry
This Youth Ministry Leadership set will equip you for the short-term goal of teaching the scriptures and the long-term goal of preparing young people to live for Christ.
On Target
When we total the hours our students spend on weekly activities, we see that we, the church, only have students 1% of their time. The other 99% is spent at school, at home, on the internet, in sports, watching television and sleeping. This overwhelming statistic challenges us, the Christian educators, to make that 1% quality Christian education. What do we want to accomplish in the 1% of time we have with our students? Better yet, what do we want to intentionally set out to accomplish with our students by the time they leave our ministry?
On Target challenges Youth and Children's Ministers to intentionally aim their arrows, or students, at a predetermined goal by answering the question, "Where do you want your students to be by the time they graduate and how are you going to get them there?" It forces Christian Educators to look at their students as future adults and introduces them to the concept of a Faith Development Plan.
A Faith Development Plan is a roadmap, a plan of action, a game plan on how to get students from where they currently stand spiritually to a deeper faith, a passionate, personal relationship with Jesus Christ. It is a paradigm shift from shooting your God entrusted arrows randomly, praying by chance they will hit something, to an intentional plan of action, a goal for shooting arrows toward a target.
About the Author
J. Brackemyre ministers to the Children and Youth at the Wilmington Church of Christ in Wilmington, Ohio, and operates Aim Training Ministries.

Brackemyre holds an Associates Arts Degree in Christian Education, a Bachelor of Science Degree in Children's Ministry, and a Masters of Arts Degree in Christian Education from Cincinnati Christian University.
Student Ministry That Leaves a Mark
Christianity involves the investing of your life into the lives of others. Nowhere is that more important than investing in the lives of youth. This wonderful resource is designed to stimulate thinking as well as igniting passion to reach youth for Christ. It will equip you to change youth, and in so doing, change the world.
Creative to the Max 2
Creative to the Max 2 contains fifty-one new ideas to get your youth group to do more than "sit down and stare at each other." It also contains resource material for fifty-four sessions. There are ideas for athletics, computers, dramas, "home videos" and food events. Every event closes with an appropriate Bible lesson that will put the word of God into the students' hearts.
---
We Also Recommend