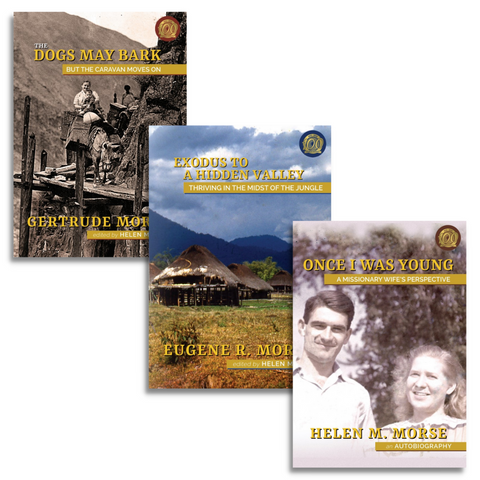 Morse Missionary Family Trilogy
Overview
This is the real-life story of a very unusual family. It is a family that is dedicated to serving God in a faraway place regardless of the cost. A family that has traveled down difficult trails that many will never travel, including trials of hardship, stress and danger. But this is also about a family who has loved like many will never love – a family with an unquenchable, sacrificial love for a faithful God and for a hurting people in a desolate land.

This trilogy tells the story of the Morse family who faithfully served in Southeast Asia for decades and whose ministry continues today. Follow this family as they enter into the mission field, endure hardships for the sake of Christ, and faithfully plant the seeds of the Gospel in places where it is so desperately needed. You'll find inspiration for your own walk with Christ and a greater awe of the God who faithfully shows His glory in the most unlikely of situations.

This trilogy has been released in recognition of the 100-year anniversary of the start of the Morse Family's ministry in 1921.
Volume 1: The Dogs May Bark, but the Caravan Moves On
Gertrude Morse
The Dogs May Bark but the Caravan Moves On is the first volume in a three-book set that tells the compelling story of ministry and mission in Southeast Asia.

This is a story of a country at war, family separation, political uprisings, hostile imprisonment, floods and disease. It vividly illustrates the fact that missionary life is more than just preaching the gospel. Within the pages of this book you will experience their daily struggle of living in a remote region of the world, and their persistence in overcoming any obstacle.

Buy this book Individually
Volume 2: Exodus to a Hidden Valley: Thriving in the Midst of a Jungle
Eugene Morse
Exodus to a Hidden Valley: Thriving in the Midst of a Jungle is the second volume in a three-book set that tells the compelling story of ministry and mission in Southeast Asia.

During World War II the Morses and a younger brother helped flyers who crashed while carrying supplies over the 'Hump'. After the war they returned to the United States to study and to marry, and then followed their parents as missionaries.

The Morses were forced out of China by the Communists (their father was imprisoned for fifteen months) and settled in northern Burma in 1950. The families' work continued with the Lisu and Rawang people in that area.

In 1965, the families had to move to an area to the west of Putao. This book recounts events that were experienced during the six years in that area.

Buy This Book Individually
Volume 3: Once I Was Young: A Missionary Wife's Perspective
Helen Morse
Once I Was Young: A Missionary Wife's Perspective is the third volume in a three-book set that tells the compelling story of ministry and mission in Southeast Asia.

This book is the Helen M. Morse autobiography moving from Indiana to Asia from 1923-1972. It includes many personal insights, details of family life, as well as a heart-felt perspective of what it is like to live in extreme conditions for the cause of Christ.

Here you will share Mrs. Morse's impressions of Eastern Asia in the late 1940s. Meet the Lisu for the first time with her. Experience a battle in her village. Travel difficult trails. Make a home in the jungle.

Once I Was Young is both a delightful recollection of life as it used to be as well as a journey of faith from childhood to marriage and on to the mission field.

Buy This Book Individually

---
We Also Recommend