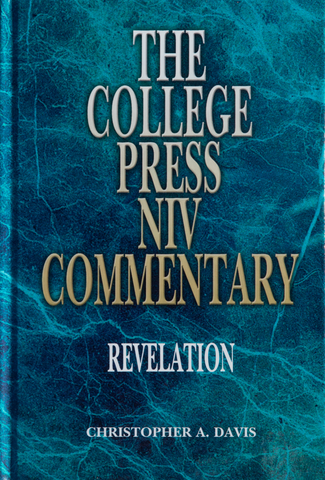 Revelation - NIV
Overview
Dr. Davis places Revelation in its historical, cultural, and literary setting, showing how the book would have been understood by the Christians for whom it was written. He draws on Jewish, Christian, Greek, and Roman writers from biblical times in seeking to discern the meaning of the book's vivid symbols. He thus bases his interpretation of Revelation on objective evidence, rather than on subjective speculation.
By calling his work "The Revelation of Jesus Christ," John shows that his purpose is not to conceal but to reveal. Dr. Davis's clear, well-organized, historically and biblically based explanation of Revelation makes this difficult book accessible to general readers.
The commentary was written for the general reader of the Bible who desires to understand Revelation as John intended it to be understood. In providing a clear, nontechnical exposition of Revelation, Dr. Davis draws on his years of experience in teaching the book to teens and adults in college and church settings.
Revelation has 393 pages.
ISBN 978-0-89900-641-3
WEB-641
About the College Press Commentary Series
College Press NIV Commentary Series is formatted with a verse-by-verse explanation of the text. It was developed for both the scholar and the average Bible student. The College Press NIV Commentary Series is the only full commentary set in print from the Restoration Movement. Each volume (41 volumes for the Old & New Testament) contains the following helpful features:
Biblically sound exegesis
Clear exposition
Objective approach
Concise introduction
New International Version of the Bible
Key word translation
Easy to use design format
Practical footnotes
And more!
About the Author
Dr. Christopher Davis is a graduate of Johnson Bible College (BA, BTh) and Union Theological Seminary in Virginia (ThM, DMin, PhD). He serves as both Professor of New Testament and Vice President of Academics for Minnesota Bible College of Rochester, Minnesota. He is also Visiting Professor of New Testament for the School of Graduate Studies of Hope International University, which is based in Fullerton, California. An ordained minister, Dr. Davis has worked for churches in Indiana, Kentucky, Tennessee, and Virginia. As short-term missionaries involved in leadership training, he and his wife Cathy helped to establish the New Hope Church of Christ of Kasama, Zambia. Dr. Davis currently serves as an elder of the Meadow Park Church of Christ in Rochester. He has authored "The Structure of Paul's Theology," published by Mellen Biblical Press.
About the Editors
Anthony L. Ash, PhD, is professor of Biblical Studies at Abilene Christian University and minister at Minter Lane Church of Christ, Abilene, Texas. Dr. Ash holds the BS from Florida State University, the MA from Abilene Christian University, and the PhD from the University of Southern California. He has authored nine books including commentaries on Luke, Acts (Chapters 1-8), Psalms (with Clyde Miller), and Jeremiah & Lamentations. He has spoken at over 400 meetings and extended lectureships and has also spoken on over 45 college and university campuses.
Jack Cottrell, PhD, is professor of Theology at Cincinnati Christian Seminary, Cincinnati, Ohio. He holds degrees from Cincinnati Bible Seminary (AB), University of Cincinnati (AB), Westminster Theological Seminary (MDiv), and Princeton Theological Seminary (PhD). he has authored three books in the College Press series, What the Bible Says About...God the Creator, God the Redeemer, and God the Ruler plus several other works.
---
We Also Recommend